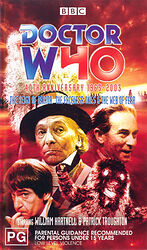 Edition:
Australia (VHS)
Released:
December 2003

Publisher:
BBC Video
Format:
1 x VHS PAL
Owned:
Buy:
Note: Single tape.
Cover blurb:
The Reign of Terror Episodes 1, 2, 3 & 6
Contains four surviving episodes with specially recorded narration by Carole Ann Ford provides [sic] links between the missing episodes.
Whilst trying to return to London in the 1960's, the TARDIS instead takes The Doctor, Ian, Barbara and Susan to France in the eighteenth century. The travellers realise that they've arrived in the middle of the French revolution — a period in history that saw the French nobility and their supporters overthrown. Ian, Barbara and Susan are arrested as traitors, and locked in the Concierge prison, where Ian learns from a dying prisoner about the mysterious spy James Stirling. Barbara and Susan are sentenced to be executed, but are rescued before arriving at the guillotine. The Doctor takes on the disguise of a senior revolutionary, and has to outwit Robespierre, the leader of the revolution, in order to try and reunite himself with his companions.
The Faceless Ones Episodes 1 & 3
The TARDIS lands at Gatwick Airport, and The Doctor and Jamie are separated from Ben and Polly. Polly sees a man murdered, but she goes missing soon after. What is the mystery behind Chameleon Tours? The Doctor and Jamie discover that not only have Ben and Polly disappeared, but many other people who have departed from the airport with Chameleon Tours. They investigate further, but not everyone appears to be who they say they are...!
The Web of Fear Episode 1
Many years after he returned from Tibet with a robot Yeti, Professor Travers is concerned that the Great Intelligence may strike again. London falls to a mysterious web which invades the streets and the Underground tube system...
Also includes surviving scenes from episodes 2, 4 & 5.