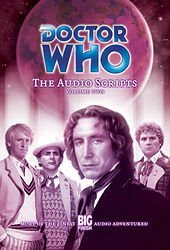 Cover blurb:
Presented in this book are the original scripts for four of Big Finish's most popular plays plus an essay by actress India Fisher, who plays Charley Pollard.
Representing the Fifth Doctor adventures, starring Peter Davison, comes The Eye of the Scorpion, written by Iain McLaughlin and featuring the first appearance of new TARDIS traveller Erimem.
Colin Baker featured as the Sixth Doctor in The One Doctor, the award-winning romp by Gareth Roberts and Clayton Hickman.
From the Seventh Doctor run, played by Sylvester McCoy, is Dust Breeding by Mike Tucker, featuring the return of an old and deadly enemy.
Rounding this collection off is Seasons of Fear, one of the most significant Eighth Doctor audio adventures featuring Paul McGann and penned by Paul Cornell and Caroline Symcox.