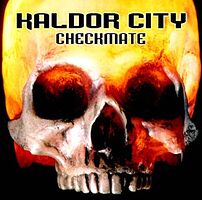 Cover blurb:
"Cause and effect. It applies to everything."
Taren Capel's legacy is unleashed, and death stalks the streets. As Uvanov fights for his career and his life, Paullus contacts a force which could be the salvation of the people of Kaldor — or their destruction.
With Carnell gone, Iago is the only one who can save the City from its fate — but to do that, he must sacrifice everything...
Kaldor City — Checkmate uses the characters, situations and settings that appear in Chris Boucher's Doctor Who novel Corpse Marker to tell an apocalyptic tale of subterfuge and revelation.