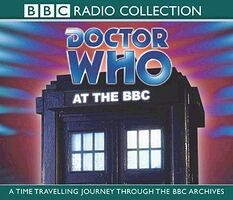 Note: Followed by Doctor Who at the BBC: Volume 2 and Volume 3. Subsequently re-released as part of the 50 Years of Doctor Who at the BBC box set.
Cover blurb:
ELISABETH SLADEN AND NICHOLAS COURTNEY TAKE A JOURNEY THROUGH THE ARCHIVES AND UNCOVER THE HISTORY OF DOCTOR WHO ON BBC RADIO AND TELEVISION
Were you terrified of the Daleks? Has the familiar Doctor Who theme tune ever sent a shiver down your spine? Did Saturday teatimes once mean gathering round the television to see where the TARDIS had landed each week? If so, Doctor Who at the BBC is for you.
Nicholas Courtney (Brigadier Lethbridge-Stewart in the series) traces the development of this incredibly successful series, which first hit our TV screens in 1963. As well as a galaxy of classic moments from the series, he introduces some of the great and good who helped make the series a national institution — including many of the actors who've played the Doctors and his companions, and some of the series' most prolific writers and producers.
Meanwhile Elisabeth Sladen — the Doctor's trusty assistant Sarah Jane — travels back in time to discover some little-heard radio gems. There's a 1974 location report from Dartmoor, The Ed Stewart Show broadcast live from Longleat in 1983, Radio 1's Newsbeat on the recovery of a missing episode, and rare archive interviews with Terry Nation, Jon Pertwee, Tom Baker, Mary Tamm, Douglas Adams and even the mutt-shaped K9. A wealth of comedy is also represented with clips from Hello Cheeky, Week Ending, The Skivers and Dead Ringers.
The TARDIS is waiting, and the Doctor's friends are at the controls — so hop on for a ride, and revisit the scary and fantastic glory days of Doctor Who.