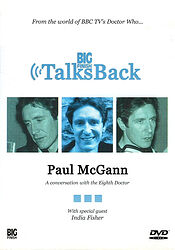 Note: Region 0 DVD. This is the only one of the Big Finish Talks Back range to be released on DVD — the others were all audio CDs.
Cover blurb:
The Marriot Bristol Royal Hotel, December 2001.
Actor Paul McGann met up with Big Finish producer Gary Russell to discuss, in depth, his career so far. From the early days on the West End stage, starring with this brothers [sic] in the musical revue Yakety Yak, through to his TV breakthrough in The Monocled Mutineer and starring roles in movies such as Withnail & I, Alien3 and The Last Emperor. Not forgetting, of course, his acclaimed portrayal of the Eighth Doctor in the 1996 TV Movie Doctor Who.
An intensely private individual, Paul McGann rarely grants interviews, so this DVD affords a unique glimpse into the thoughts of one of Britain's best-loved actors, as he talks openly about his life, his work and, in particular, his period as the time-travelling Doctor.
Plus, in a supplementary interview, Paul talks about his return to the role in Big Finish's ongoing series of Doctor Who audio adventures, and is joined by actress India Fisher who plays his travelling companion, Charley Pollard.
SPECIAL FEATURES
Discussion of the Eighth Doctor Audio Adventures with India Fisher • Outtakes