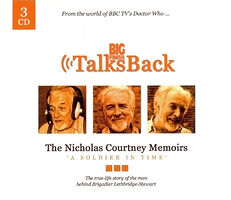 Note: As far as I am aware, this is an audio reading of Courtney's previously-published memoir Five Rounds Rapid! (not the subsequently-published Still Getting Away with It).
Cover blurb:
The true-life story of the man behind Brigadier Lethbridge-Stewart
He's seen off Daleks, Cybermen and Yeti. He's witnessed Giant Robots running amok, met himself in the future and saved the world from the life-devouring Destroyer. He is, of course, Brigadier Alistair Gordon Lethbridge-Stewart, alias actor Nicholas Courtney.
After five decades of acting alongside far more than just the eight television Doctor Whos (nothing compared to the likes of Frankie Howerd, Donald Wolfit and Michael Winner), this is his story. His memoirs. His personal recollections of his life on and off the stage. Read to you by that most gentlemanly of gentlemen, Nicholas Courtney...