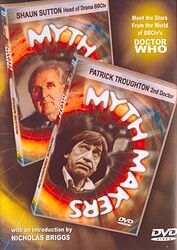 Note: Region 2 + 4 DVD. Re-release of two interviews that were originally released separately on VHS: Myth Makers: Patrick Troughton and Myth Makers: Shaun Sutton. The Patrick Troughton disc was later re-released as part of The Doctors: The Pat Troughton Years.
Cover blurb:
DOUBLE THE VALUE!
PATRICK TROUGHTON — the Second Doctor
"Patrick was an intensely private person, so I was amazed when he started attending conventions!"
PATRICK TROUGHTON was born and raised in North London. During a long and successful career he appeared in countless television dramas, including DOCTOR FINLAY'S CASEBOOK, and THE OLD CURIOSITY SHOP, plus feature films including Laurence Olivier's acclaimed HAMLET.
But it is probably for his role as the second DOCTOR WHO that he will be most remembered. Eccentric, childish, comic, whimsical: the list of facets within his portrayal is long and complex and this reflected much of PATRICK's own personality.
In this tribute MYTH MAKERS we concentrate on what exactly made PATRICK's second Doctor so successful. With contributions from FRAZER HINES, DEBORAH WATLING, ANNEKE WILLS, MICHAEL CRAZE, SHAUN SUTTON, VICTOR PEMBERTON, DERRICK SHERWIN any [sic] many more!
And for the first time we include an exclusive interview with PATRICK shot at his only UK convention appearance at PanoptiCon VI! The only such interview shot in the UK.
SHAUN SUTTON — Head of Drama, BBC Television
"Patrick Troughton was one of the best DOCTOR WHOs and was a marvellous choice."
During his long and varied career, SHAUN SUTTON has been an actor, writer, producer, director and ultimately Head of BBCtv Drama for twelve years.
He was there when WILLIAM HARTNELL left the series and was instrumental in casting PATRICK TROUGHTON as his successor. Three years later he was still there to help in the choice of JON PERTWEE as the third Doctor! He was even there when TOM BAKER joined the programme!
He and SIDNEY [sic] NEWMAN oversaw what is now called "the golden age of television"! It was certainly the golden age of DOCTOR WHO.
SHAUN shares with NICHOLAS BRIGGS his unique experiences in television production at the BBC and on DOCTOR WHO in particular.
SPECIAL FEATURES
Introduction by NICHOLAS BRIGGS and KEITH BARNFATHER.
Biography of both featured artists.