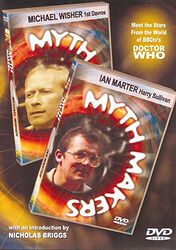 Note: DVD re-release of two interviews that were originally released separately on VHS: Myth Makers: Ian Marter and Myth Makers: Michael Wisher. The Michael Wisher interview was later re-released as part of The Doctors: Monsters!
Cover blurb:
DOUBLE THE VALUE!
IAN MARTER - Harry Sullivan
"Tom Baker said to me one day... 'You obviously write well, what about writing some of the novelisations?'"
DOCTOR WHO fans fondly remember the late IAN MARTER as the charming, bumbling HARRY SULLIVAN. The man behind the character was equally as likeable, but many times more sharp witted.
As NICHOLAS BRIGGS and IAN walk and talk their way through locations for TERROR OF THE ZYGONS, you'll learn of IAN's life as a prolific writer and actor.
This is an extended version of the MYTH MAKERS recorded in 1986, with a special introduction by IAN's close friend NICHOLAS COURTNEY.
MICHAEL WISHER - 1st Davros
"Poor darlings... '(in a Dalek voice) I have failed, I have failed'... BOOM! Poor loves, I did feel sorry for them."
Many DOCTOR WHO fans will remember MICHAEL WISHER for his definitive performance as DAVROS, creator of the Daleks.
Most certainly MICHAEL was a gifted actor, a chameleon who could transform his voice and appearance, working regularly in television and on DOCTOR WHO during the 1970's.
MICHAEL loved his times working on the programme and appeared in several spin-off dramas including WARTIME and SHAKEDOWN.
In this special production, we've included highlights of MICHAEL's original interview in 1985 and recall his life and career in the company of NICHOLAS BRIGGS, PETER MILES and MICHAEL's son ANDREW WISHER.
SPECIAL FEATURES
Introduction by NICHOLAS BRIGGS and KEITH BARNFATHER.
Biography of both featured artists.