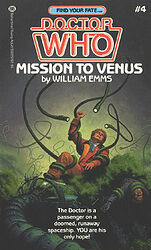 Edition:
US (paperback)
Title:
Find Your Fate: Mission to Venus
Released:
September 1986

Publisher:
Ballantine
ISBN:
0-345-33229-6
Format:
paperback
Owned:
Buy:
Cover blurb:
The Doctor is counting on YOU to help win a nerve-wracking game of trust, treachery, and terror in Mission to Venus.
Traveling in the Tardis, you and the Doctor materialize with a crash in a most unusual place: the belly of an in-flight spaceship. More eerie are the tall glass jars you find there, filled with jelly-like plants that desperately want out... but why?
While the Doctor ponders that question, you meet the crew — a suspicious, vicious, and mutinous lot. Will they reveal the plants' true purpose and the ship's destination? But that may not matter after all — the spaceship has been struck by an enormous meteorite and now you're flying out of control on a collision course with Venus!
There is precious little time for you and the Doctor, and perhaps everyone else. It will be a true test of your ingenuity to avoid becoming galactic statistics as you Find Your Fate.