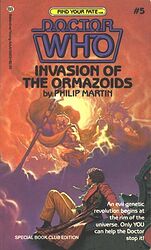 Edition:
US (paperback)
Title:
Find Your Fate: Invasion of the Ormazoids
Released:
October 1986

Publisher:
Ballantine
ISBN:
0-345-33231-8
Format:
paperback
Owned:
Buy:
Note: The (rather nice) cover art includes K-9 even though he does not feature in the book.
Cover blurb:
YOU are the Doctor's only assistant as you face an entire race of mutant warlike beings in
INVASION OF THE ORMAZOIDS
It is the twenty-fifth century. The Doctor has set your coordinates for the rim worlds — a turbulent, primitive, and strange region. There, at the edge of the universe, you are fated to meet Darval, an evil ruler with a fascinating history and bizarre energy.
But of more immediate danger: Darval's Ormazoids, a race of beings originally created to assist him in space exploration but now bred by Darval to be fearless and unstoppable — and to carry out his commands for domination of the universe.
YOU and the Doctor must seize control of Darval's Master Genetic Code Signifier — the device that controls the Ormazoids. Otherwise, Earth and her empire will fall prey to his ruthless plans. Outnumbered and outmuscled, YOU must rely on your intellect as you FIND YOUR FATE.