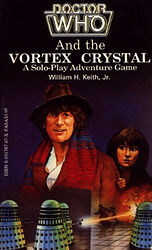 Description: One of two "solo-play adventure games" published by FASA in 1986 — the other was The Rebel's Gamble. Basically a more sophisticated version of the Find Your Fate "choose your own adventure" books which had been published earlier the same year.
Cover blurb:
The planet did not look inviting...
On the fog-shrouded planet Gathwyr, the Doctor and his Companions stumble across the keys to a mystery that lead them to plot and counterplot in a struggle that threatens the universe itself.
In this plot-your-own Doctor Who adventure from FASA, the Doctor must use all of his intelligence, charm, and luck to discover what power is eroding the barriers between Time and Space. Somewhere on Gathwyr lie the clues to the puzzle, but as the puzzle comes together, the Doctor learns he still faces his greatest challenge, a confrontation with the dark lord of the enigmatic Vortex Crystal!
Doctor Who plot-your-own adventures are a new concept in interactive fiction, combining the detail and depth of a novel with the fast-paced excitement of a role-playing game. As the intrepid Doctor, you make the decisions that determine the course of an adventure. Each decision leads you, step by step, through an unfolding story-plot, where your skill will make the crucial difference between success and failure.