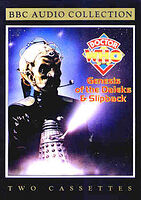 Edition:
US (cassette)
Released:
December 1989

Publisher:
The Mind's Eye
ISBN:
1-55935-031-8
Format:
2 x cassette
Owned:
Buy:
Note: Two sleeve variations exist for this release: the first one as pictured, and a second version without the gold band behind "BBC Audio Collection" and with the back cover blurb missing the first paragraph — but otherwise having identical content, ISBN & price. Amazon also lists a separate US release under the ISBN "9990412898" which could either be (A) a book club exclusive release or (B) a "phantom" database entry rather than a real item. (If anyone knows for sure, please get in touch)
Cover blurb:
BBC AUDIO COLLECTION
A library of quality recordings from the BBC in England, both from the Radio Archives and from newly produced works.
DR. WHO
Here are two stories to celebrate DR WHO'S 25th Anniversary. In Genesis of the Daleks the Doctor (Tom Baker) is sent by the Time Lords to the desolate planet, Skaro, to avert the creation of the Daleks, who threaten to dominate the entire Universe!
In Slipback the Doctor stumbles upon a shocking secret — one upon which depends the fate of the Universe. This is the only DR. WHO story specially written for radio with Colin Baker as the Doctor. Running time: 2 hours.