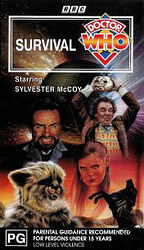 There are 3 reviews so far. To add a review of your own for this item, visit the voting page.
| | | |
| --- | --- | --- |
| | | |
| | A great end to a great series | |
| | | |
By:
Nick, Australia
Date:
Saturday 13 May 2006
Rating:
8
It was a shame that the series ended in 1989, after quite a few poor seasons, Doctor Who finally came back with a vengance with Season 26, one of the best ever seasons I think. Stories like Ghost Light, Curse of Fenric, and Survival. Survival was an excellent end, a story about survival (DUH!) and barbarianism. Ainely gives his best ever performance as the Master, without all the Ham and cheesynes. The only problem with this Story, much like Ghostlight, is that despite being superb, it was given only 3 episodes, making a very rushed and anoying conclusion. But despite all this, Survival is one of the best stories and a great way to end the series until it came back in 2005.
By:
Whites, Southend UK
Date:
Monday 29 May 2006
Rating:
10
This is the last story of the classic series. With that in mind the end of this story is a pure tear jerker (i was 9 when this story was on telly- but still shed a tear now!)
I think the doctor's last lines sum up what DW has been throughout it's long history.

Just imagine what season 27 could have ben like...

We love you Mcoy and Aldred!
I now come to evaluate ths little tale and as a who fan I was impressed. What a tale to end on. And on such a high as this, its reguareded as such a classic that in all the DOCTOR WHO videos I have and havent, I'm glad I own this.

The masters last before the TV movie and sylvesters and Sophies swansong together. I loved this episode when i first saw it and i'm glad that they made this as a DVD when they did. A serious WHO FAN would already have this in his or her collection. Its a must!