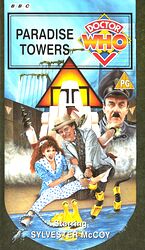 | | | |
| --- | --- | --- |
| | | |
| | Reviews for Paradise Towers | |
| | | |
There are 6 reviews so far. To add a review of your own for this item, visit the voting page.
By:
, Ulm, Germany
Date:
Friday 9 August 2002
Rating:
10
In my opinion one of the best Doctor Who stories.
| | | |
| --- | --- | --- |
| | | |
| | I can see why the series died.... | |
| | | |
By:
DW, Bethalto, Illinois, USA
Date:
Wednesday 9 April 2003
Rating:
3
I own about 75-100 of the Doctor Who videos and this is one of the worst epsiodes of Doctor Who I've ever seen. The only one worse to this point is "Delta & the Bannermen". Why couldn't they keep making great Doctor Who episodes like "Genesis of the Daleks". These 7th Doctor episodes are just plain stupid. They seem to almost be making fun of Doctor Who. This episode, and Delta seem like parodies of Doctor Who. Anyway, I would advise you, unless you are a collector, to steer clear of this one, although as bad as it is, it's still much better than "Delta & the Bannermen".
By:
ste, cumbria
Date:
Saturday 10 December 2005
Rating:
8
I luv this story its so original. sylvs gud and i actualy like mel in this (shoot me i no!) richard bries is awful but tabbie and tilda make up 4 it. This story looks fab. But there are 2 things that annoy me 1)the plot doesnt make sense why was the gr8t arcitect left in a celler wid all dat technology and 2)why do the kangs need the rezziez 2 throw see through sheets over the cleaning robots when they have explosive arrows! This story is still fab tho ONE OF MY FAVOURITES!!!!!!!!!!!!!!!!!!!!!!!!!!!!!!!!!!!!
This 4 part adventure starring Sylvester McCoy & Bonnie Langford is full of Paradise & is extremely relaxing until... Robot cleaners go out of control & the Chief Caretaker turns into a total dork. There are lots of surprises in this story like when a deadly robot cleaner rises from the water when Mel is having a swim. Will the Dr be able to save Paradise Towers and stop the Chief Caretaker? Paradise Towers is not to be missed! Overall 9/10.
By:
Matt Saunders, Buckinghamshire, United Kingdom
Date:
Thursday 11 September 2008
Rating:
10
Loved this story for it's very dark side. Canabalistic old dears! Excellent. The plot and run arounds are such fun. Mel's best story.
By:
Matthew David Rabjohns, Bridgend, United Kingdom
Date:
Monday 2 May 2011
Rating:
10
This story for me is one of the all time greats of Doctor Who. It has such a lot going on in it, but all the threads gel together so very well indeed.

First we get to see Sylvester settling into the role of the seventh Doctor, the most harshly viewed Doctor of the lot in my opinion. He was a palpable chap and actor, whose precision at going from camp to totally dark in an instant was unparrallelled. I really like his characterisation throughout this story.

Bonnie Langford gets about her best treatment as a companion here, nearly being eaten by those still so lovable cannibal old biddies! The acting leading up to the cliffhanger is brilliant, as it genuinely shocked me when you saw the sudden darkness beam in those two old biddies eyes! A real good moment of acting.

My Dad thinks Richard Briers ruins this story, but I dont. I really like his rather slapstick approach to the role of the Chief Caretaker. One of those memorable idiots who are totally over the top. But all the other characters are of a far more serious tone. I love the Kangs, played so well by every actress who appears as one of them.

That the villain should be a disembodied brain in a basement is hardly a wholly original idea, but its never been done quite so grippingly as it is here. And thoserobots really are rather creepy looking. Everyone here is on fine form, and I for one cant see why the season from which this heralds is so badly reviewed, theres more going for it than nearly all of the new series!!

The tone of sadness at the loss of the Pex character at the end is very sensitively handled as well, particularly for a Doctor Who, as I had a lump in my throat at the end of this story. This story is definitely in my top ten Doctor Who stories. Along with four other Sylve stories, so that must say something surely?....

I am so glad this is coming out on DVD soon. I cant wait!