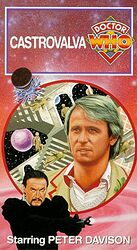 There is 1 review so far. To add a review of your own for this item, visit the voting page.
The Regeneration between the 4th and 5th, not something to miss. All the time, the watcher was watching and ready to make his move. "He was the Doctor all the time" says Nyssa to both Tegan and Adric. This story isnt really one of my all time favroutes, however its one that sits amoungst my collection. It sees the master up against the doctor once again and this time the Master soley wants to destroy the Doctor- nothing new then. But its great story with which the main charcters are at thier best and the Doctor is a new man ready to take to the controls of the TARDIS like always!

Hh,and be sure to watch where Peter Davisons mimics Patrick Troughtons Doctor and Pertwees!