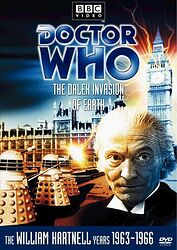 | | | |
| --- | --- | --- |
| | | |
| | Reviews for The Dalek Invasion of Earth | |
| | | |
There are 2 reviews so far. To add a review of your own for this item, visit the voting page.
| | | |
| --- | --- | --- |
| | | |
| | If it weren't for the Slyther... | |
| | | |
By:
Huw Davies, Taunton, United Kingdom
Date:
Tuesday 27 May 2008
Rating:
9
The Slyther pretty much ruined this story. It wasn't really needed, and even if it was they could have spent SOME money on it. I mean, it's as if they spent minus £ on it!
Otherwise, a great story, well written with a good ending.
| | | |
| --- | --- | --- |
| | | |
| | An excellent follow up to the Daleks... | |
| | | |
By:
Matthew David Rabjohns, Bridgend, United Kingdom
Date:
Friday 1 April 2011
Rating:
9
This story has a better pace, better ideas and better acting than the first story to feature the metal pepperpots from Skaro. The ending of this story too is moving and a fitting farewell for Carole Ann Ford, whose depature is highly emotional for the time. The Doctor's leaving speech is an excellent piece of scripting. The Daleks too are well utilised throughout the story, doing their sucker waving. The ships dont look all that good, but the CGI effects are welcome and just add to the feel of the story which is very stong in making its point. The captured human scenes in the mine are more like a concentration camp. Their is credible acting from many of the crew, who really give the feel of despair at the invasion of the Daleks. The only thing that grates on me is here the dalek voices seem pretty wierd, too high pitched and totally un daleklike. But the action is well paced and th twists and turns are brilliant. The Slyther is pretty good too, although I dont know why a dalek would honestly want to have a pet. But on the whole a very good story, with especially Barbara getting a lot to do. And William Hartnell as usual is pretty excellent, dispite the fact that he was injured during the making of this story.