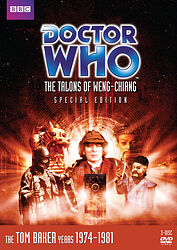 | | | |
| --- | --- | --- |
| | | |
| | Reviews for The Talons of Weng-Chiang | |
| | | |
There are 6 reviews so far. To add a review of your own for this item, visit the voting page.
| | | |
| --- | --- | --- |
| | | |
| | Get hooked on the Talons of Weng-Chiang | |
| | | |
By:
Derek Robertson, Small Town, Scotland
Date:
Wednesday 28 May 2003
Rating:
10
This is probobly the finest of the BBC DVD releases yet.

The story is one of the best and most of Doctor Who's and its setting adds an extra level of mystery around the plot.
With the Doctors Sherlockian deerstalker hat "The Talons" includes many elements of the victorian society and borrows from Jack the Ripper as well as Phantom of the opera, it mixes them well.

The commentary from the director, producer and some of the key actors make the track absorbing. Included is some rough footage of film taking place with directions being given to the actors.

So much extras on top of this wonderfull story as well as the enhanced image and sound make this a must have for all fans of Who.
| | | |
| --- | --- | --- |
| | | |
| | wipes the floor with 80' Who | |
| | | |
By:
nick andrews, Manchester, England
Date:
Sunday 17 August 2003
Rating:
10
one the best stories of the whole series. Seeds of Doom, Zygons and Green Death should follow it
By:
Huw Davies, Taunton, United Kingdom
Date:
Monday 22 March 2010
Rating:
10
It's no surprise 'The Talons of Weng-Chiang' was recently voted #4 in DWM's 'Mighty 200' survey. It's not just good Doctor Who - it's also great telly.
Superb location work, brilliant period costumes and a wonderful story to tie it all up, this really is one of Doctor Who's all-time classics. In my opinion it is far better than 'Genesis of the Daleks' (#3 in DWM's poll) but no worries. No doubt many fans remembered the mass of brown carpet that is the giant sewer rat (but then there's the Genesis cave clam, so fair do's?).
Actor-wise, Baker and Jameson are great in their detective work in this story, plus there's Litefoot & Jago, and don't forget Michael Spice as Weng-Chiang/Magnus Greel: a voice to be reckoned with.
Not great extras, but to be honest I'm not bothered: 1) The story more than makes up for it, and 2) A special edition of the story is released in 2010, so no doubt this problem will be solved.
Overall, one of Doctor Who's all time greats.
| | | |
| --- | --- | --- |
| | | |
| | Were U trying to attract my attention? | |
| | | |
By:
Matthew David Rabjohns, Bridgend, United Kingdom
Date:
Thursday 9 September 2010
Rating:
10
Because if you were BBC with this tale, then you certainly succeeded.

This story is the perfect blend of horror action and humour. It is a good end to the Phil Hinchcliffe years as producer. He couldnt have bowed out in better style.

This story is so entertaining. It boasts so many excellently realised elements. Mr Sin is a creepy creation, Magnus Greel is disgustingly disfigured, and John Bennett is sublime as L'hsen Chang. one of the best villains in the long history of Doctor Who. We can frogive the woeful rat for the rest of the story is brilliant. It looks as if tonnes has been spent on the production. The set design again is excellent, one really gets a feel of Victorian England that adds to the realism of it all.

Louise Jameson is so brilliant and so different from so many of the past companions. Jumping out of windows and all that. She is a really strong character indeed. One of the best in fact.

Christopher Benjamin and Trevor Baxter. What can I say about these two that hasnt been said before? These two are the best double act in Doctor Who. Rob Holmes is so good at creating memorable double acts. This is the cream of the bunch here. These two bring so much to their characters. It is no wonder this is conssitently called one of the best Doctor Whos ever. It is stunningly effective.
By:
simon blackwell, rotherfield, United Kingdom
Date:
Thursday 25 August 2011
Rating:
6
dont believe the hype, its a good yarn but there are so many better ones
| | | |
| --- | --- | --- |
| | | |
| | Essential must watch for ANY Whovian | |
| | | |
By:
Marty Dallas, Franklin, United States
Date:
Tuesday 9 December 2014
Rating:
10
This is not just a good 4th doctor story. Talons of Weng-Chiang is one of the greatest Dr. Who ever produced. The last remnants of the Hinchcliffe era delivers everything we all love about Doctor Who. This story introduces the Jago & Litefoot characters that now have their own audio adventures. As this is not a formal review I don't give away spoilers because if you haven't seen this before then most likely you are a new fan. Most long time fans should have watched "Talons" many a moon ago. HIGHLY RECOMMEND