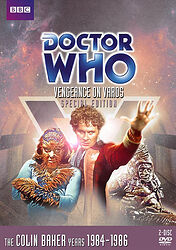 | | | |
| --- | --- | --- |
| | | |
| | Reviews for Vengeance on Varos | |
| | | |
There are 5 reviews so far. To add a review of your own for this item, visit the voting page.
| | | |
| --- | --- | --- |
| | | |
| | A good story (For the baker times) | |
| | | |
By:
will, Fareham, England
Date:
Monday 13 October 2003
Rating:
7
I like this. Its probaly 2nd best colin story. Its clever and orginal and i love the end line
| | | |
| --- | --- | --- |
| | | |
| | Boring, silly and a rubbish enemy | |
| | | |
By:
Huw Davies, Taunton, United Kingdom
Date:
Tuesday 3 June 2008
Rating:
1
This is one of the worst serials of Doctor Who I have ever watched. The idea is stupid, the actual episodes boring, and Sil is one of the silliest enemies ever - if I were the Doctor I would have lobbed him on the floor and squished him!
By:
Chris Abel, United States
Date:
Tuesday 24 November 2009
Rating:
10
Colin Baker has always been my favorite Doctor and this story is his best. Sil makes for an interesting villian. The story is well written and thought provoking.
By:
Matthew David Rabjohns, Bridgend, United Kingdom
Date:
Friday 1 April 2011
Rating:
9
Vengeance On Varos always seems to be reknowned for its violent content. And yet what I see is not so much violence as poltical bickering with a brilliant creation, Sil. Nabil Shaban is perfectly cast as the creature, giving the role real flare and inflection. He is a very interesting kind of villain.

One might think this is going to be a super cheap show, as that awful first scene of the punishment domes are the worst model use I think ever used on the show. But this is not the case, for the rest of the sets are imaginative, especially the punishment dome sections within. And I dont really care about weak looking models anyway.

Colin Baker is already on fine form as the Doctor. This Doctor always seemed louder, more easily riled, and yet his abhorence of evil is still as strong as it ever was. He gives a great performance in this story, from portraying his apparent dismay at the TARDIS not working properly. There is some brilliant dialogue here, as there is throughout the story.

Nicola Bryant is strong too, and her look as a bird is rather impressive. The Doctor's fight with those guards near the acid bath is an infamous scene, but I cant see what the problem is. The Doctor appears to be defending himself for the most part, and its accidental that the first bloke falls in. So there is no "infamous" stuff here whatsoever.

Martin Jarvis is also well cast as the troubled Governor of Varos. There is real depth of character within this story. The only thing Id say about this story is that it does seem to go too fast at the end, with everything settled within a few minutes. But at least the ending is not farcical or unbelievable.

I cant see a whole lot of violence in this, its more of a satire on the effects of violence. So overall this is a very strong story.
| | | |
| --- | --- | --- |
| | | |
| | Vengance on Varos Special Edtion | |
| | | |
By:
Trevor Smith, Nottingham, United Kingdom
Date:
Wednesday 4 September 2013
Rating:
9
A wonderful SE of this, my favourite 6th Doctor story, is most welcome.
The original release of VoV was one of the earliest releases & as such was very thin on content apart from the story itself & a great commentary.
This newly buffed up and shiny new version features lots of new extras including a great making of with writer Phillip Martin.
It also features an optional 3.1 surround sound mix which is just wonderful and adds new layers to the enjoyment of this wonderful, multi-layered, ahead of its time story.
Buy it, you won't regret it.