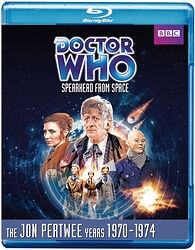 | | | |
| --- | --- | --- |
| | | |
| | Reviews for Spearhead from Space | |
| | | |
There are 5 reviews so far. To add a review of your own for this item, visit the voting page.
| | | |
| --- | --- | --- |
| | | |
| | Great adventure! Great story! | |
| | | |
By:
Ian, Leeds
Date:
Monday 1 December 2003
Rating:
10
A few more quid and a bit of a trim and this could have been a half decent movie release. Love that fact is on film not video, gives it a much more professional quality on DVD. The Autons are great, with one purpose, they are more or less early versions of the terminator. The let down has to John Pertwee's struggle with the "intelligence" at the end of episode four, So bad it is good.
Classic well worth the buy for fans, SCFI lovers and others.

By:
Huw Davies, Taunton, United Kingdom
Date:
Saturday 17 May 2008
Rating:
9
This would sell like hot cakes if it was re-released with more and better extras, as the story is great (by Doctor Who script maestro Robert Holmes) and the new characters gel brilliantly. The brilliant alien menace just adds to the brilliance!
By:
Matthew David Rabjohns, Bridgend, United Kingdom
Date:
Monday 1 November 2010
Rating:
9
Spearhead is yet another story that I didnt gel with when I was young, but I certainly gel with it now.

I love the comedy throughout this tale, its a good reprieve from the far harder and more sinister moments along the way.

Caroline John makes a really good debut as Liz Shaw. Shes such a cool companion and I dont know why they got rid of her after only one season. She deserved a far longer run at the role. She gelled with Jon Pertwee so very well indeed.

Nicholas Courtney also just gets better and better as the arrogant but basically lovable Brigadier. Although I never have been able to figure out what gave him the right to take the TARDIS key from the Doctor in the first place. He had no ruddy right! A pig headed lout most of this first season was all his character was!

The autons here are so much more scary than the pathetic new series takes. They are so freaking unnerving, with their lumpy and unfinished appearance. They ooze menace in every scene. And the fight sequence at the end of this tale rates as one of the finest in the shows history, throughly taught and realistic.

Hugh Burden is chilling as Channing also. He really acts totally inhuman, and his presence steals every scene he's in. John Woodnutt is excellent as Hibbert too. And his character develops well all through the story.

The only let down here is that Jon Pertwee gets sadly rather a sad amount of stuff to do throughout. He's almost like a spare part, and the Doctor should not be a spare part. Although at least after part two he gets someserious action, and immediately begins to make his presence known.

This story overall was a powerful start to Jon's time as the Doctor. The best scenes are when the autons come to life and step out of the window onto the street. A brilliantly recorded scene. This is one of the greats of Doctor Who in my opinion, with very little that lets it down along the way.

And I dont think the consciousness is actually that bad a design. As it animates plastic, then its body isnt going to look totally relistic is it? Its a plastic octopus. And just to add to that, Jons struggling with the nestene is brilliant to say the least! This is a very good Doctor Who story indeed.
By:
Hugh E. Oxburgh, Cambridge, United Kingdom
Date:
Tuesday 31 May 2011
Rating:
10
This is one of the alltime greats-no question. The Autons have always been my favourite monsters, not least because they don't speak (except in Terror of the Autons) & that scene of them bursting out of the shop windows is iconic. THe reason its so good after 40 years is because it was shot entirely on location & so has a freshness that a lot of the studio-bound ones just don't have. Its hard to believe tat the sho's future depended on this one dong well & what a return to form it was. Hugh burden is brilliant as Channing & John Woodnutt gives one of his numerous great performances as Hibbert, though his best one was yet to come! I strongly recommend buying the new boxset "Mannequin Mania" to relive this one, not least for the moment when the replicas come alive in the waxworks & begin to leave. Creepy.
By:
Trevor Smith, Nottingham, United Kingdom
Date:
Tuesday 23 July 2013
Rating:
10
And so the only classic story on film gets the HD upscale it deserves.
I'm sure your all familiar with the story.
This is a brilliant introduction to the 3rd Doctor via the genius of Robert Holmes's writing.
The Autons, the Brig & Liz Shaw all make up a cracking tale.
The HD quality film is just staggeringly good, an improvement on even the 2010 re-release.
It looks as though it could have been made yesterday instead of 1970.
It's packaged with 2 new documentaries one on Jon Pertwee the other on Caroline John.
Both are excellent.
It should be noted that none of the extras from the 2010 re-release are on this documentary.
Highly reccomended.