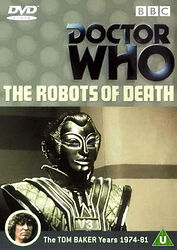 | | | |
| --- | --- | --- |
| | | |
| | Reviews for The Robots of Death | |
| | | |
There are 7 reviews so far. To add a review of your own for this item, visit the voting page.
By:
D84, Canton, USA
Date:
Wednesday 23 October 2002
Rating:
10
I wish I was a robot
By:
Ian, Leeds
Date:
Monday 8 December 2003
Rating:
10
Agatha Christie meets Dr Who. Swap a 30's manor house for a futuristic planet setting and you have Robots of Death. Excellent costumes, excellent acting and gripping plot. The robots (or "creepy mechanical men") make it very atmospheric. Tom Baker is at his peak and Louise Jamerson is brilliant as the savage Leela (That animal skin costume is just so hot!).
This is DR Who at it's best, and even when you know the culprit, it bears watching again and again for sheer entertainment. A must for DR Who fans, SCI-FI fans and the casual viewer.

By:
Paul Speake, Wakefield
Date:
Tuesday 15 March 2005
Rating:
10
Never tire of this one! One of the very best ever.
By:
Toby, England
Date:
Saturday 22 October 2005
Rating:
5
I have seen every episode of Doctor Who from this episode onwards and I do not think this was a good way to start off. The story was dull seeing that it was just a typical murder mystery only set with the person you thought was your freind turning out to be the murderer only set in the future. If you do not know that old story this would be good otherwise do not bother.
By:
Huw Davies, Taunton, United Kingdom
Date:
Saturday 17 May 2008
Rating:
10
I don't need to write a 1000-word review, 'cos one will do all the talking ----> superb.
| | | |
| --- | --- | --- |
| | | |
| | Beginning to think im strange.... | |
| | | |
By:
Matthew David Rabjohns, Bridgend, United Kingdom
Date:
Sunday 18 July 2010
Rating:
6
I am starting to wonder if im wierd or something. Because it seems to me that a lot of Doctor Who stories people rave about around me to me just seem to drag on tediously and arent really all that entertaining.

The Robots Of Death is another one of those tales to me. its nothing to do with the acting or the design. the voc robots are very impressive indeed. But the plot just seems like another one of those easily figured out who dunnits. Whilst David Bailie is brilliant as Dask, he isnt enough to keep the story from being tepid and strained. It is probably just me, but this story is boring. It doesnt fall apart in the last episode like in Pyramids Of Mars, but it is still another let down for me. I just cant get into it in the massive way so many others have.
By:
Trevor Smith, Nottingham, United Kingdom
Date:
Tuesday 18 September 2012
Rating:
10
Robots of death is of course one th very best Who story's ever. Tightly written, brilliant direction, fantastic atmostphere, the beautifully designed robots & the chemistry between the Doctor & Louise. It doesn't get much better than this.