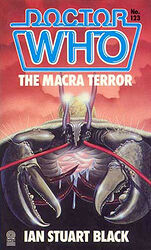 | | | |
| --- | --- | --- |
| | | |
| | Reviews for The Macra Terror | |
| | | |
There are 2 reviews so far. To add a review of your own for this item, visit the voting page.
By:
Theo Robertson , Isle Of Bute, Scotland
Date:
Thursday 11 March 2004
Rating:
1
According to the elder statemen fans THE MACRA TERROR is a classic spinechilling story . It`s impossible to believe this reading Ian Stuart Black`s novelisation . In fact it`s very very difficult to describe this book as a novelisation since it`s more like a script with " He said " after every line of dialouge . No attempt is made to inject atmosphere into the proceedings and the only embellishment to the story is having a major character who dies in the tv story survive in the book which weakens the story still further

A lot of people have criticised John Peel`s style as overwriting , well this novelisation is completely underwritten and if the TV serial is as good as many people have painted it then this is possibly the worst book in the whole range as it`s so bland
By:
Matt Saunders, Buckinghamshire, United Kingdom
Date:
Wednesday 3 April 2013
Rating:
6
Once again, I've read a Target novelisation of a missing story. I find the soundtracks quite hard to follow, so I am now experimenting by reading these Target novels first, and then listening to the CD. This method works very well, so I'll keep doing it this way.

This is not the best novelisation ever, but it is still an interesting to read. The story idea is fascinating, but not very well realised in the novel (and I suspect in the TV version either, but alas we can't see that). Black is just going through the motions with the novel, but I still enjoyed it. I am also certain that the Macra are much better in this novel (Black is not held back by money). I understand that there was only one Macra built for the actual TV story, so thankfully we can enjoy more than one in this novel.

All in all, a good enough story - just not the best novel. 6/10.