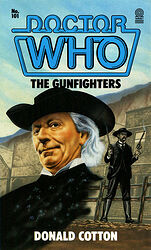 | | | |
| --- | --- | --- |
| | | |
| | Reviews for The Gunfighters | |
| | | |
There are 2 reviews so far. To add a review of your own for this item, visit the voting page.
| | | |
| --- | --- | --- |
| | | |
| | Missing: A number of historical facts! | |
| | | |
By:
Michael Baxter, Coalville, Leicestershire, UK
Date:
Wednesday 23 October 2002
Rating:
8
Easy to read, amusingly told, with many witty turns of phrase. The Doctor and friends have little depth, of course, as a consequence of the story being told via journalist Ned, and in a Doctor Who book this is perhaps not good! This novel inspired me to look into the real Clantons a little, and while cattle rustling is somewhat reprehensible I can't believe they were quite as black as Cotton and others have painted them. Mind you, facts in 'The Gunfighters' are somewhat thin on the ground anyway: Pa Clanton died in August 1881, two months before his appearance in this story; Phin was not present at the real gunfight; Johnny Ringo actually committed suicide!
Still, Cotton does put across the popular ideas regarding the shootout, perhaps more romantic than the real thing, the reasons for which are, I gather, still somewhat hazy. A final word regarding our three travellers: two would have been better. If Anne Chaplette did survive the Massacre of St Bartholomew's Eve, she has a lot to answer for!
By:
michael, New Zealand
Date:
Wednesday 13 November 2002
Rating:
1
I got this novel a while back but I found it very hard to swallow. I guess westerns are not me, but i Also found Donald cottons writing style in theird person very anoying. Overall very dissapointing.