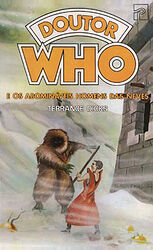 | | | |
| --- | --- | --- |
| | | |
| | Reviews for Doctor Who and the Abominable Snowmen | |
| | | |
There are 4 reviews so far. To add a review of your own for this item, visit the voting page.
| | | |
| --- | --- | --- |
| | | |
| | Good rendering of script into novel | |
| | | |
By:
David Layton, Los Angeles, United States
Date:
Sunday 1 May 2005
Rating:
7
Terrance Dicks' first effort in turning Doctor Who scripts into novels is probably his best. Whereas with most of the others, Dicks does very little other than to reproduce the dialogue and add a few hurried descriptions, in "The Abominable Snowmen" Dicks has attempted to write the story as a novel. That means that more care is given toward creating verbal pictures, and Dicks takes time to reveal characters' thought processes, not merely their actions. The story itself is still a "classic," in that great English tradition (I'm thinking John Wyndham, John Christopher, and L.P. Davies, for instance) of the gradually building terror that threatens a small community as a start toward a much larger and more terrifying danger. As with these other writers, it perhaps pays not to think too hard about the logic of a Haisman and Lincoln script. It is better to let the atmosphere have its effect. Dicks does a good job of rendering that atmosphere in novel form.
| | | |
| --- | --- | --- |
| | | |
| | One of the great novelizations from | |
| | | |
By:
Kevin Andel, Chicaago, Illinois, The United States
Date:
Thursday 25 May 2006
Rating:
10
A terrific novelization by Terrance Dicks. Maybe I am slightly biased, but because only one episode survives and the "loose cannon" reconstruction is forthcoming, I just love this story. Why is this a great story in my opinion? Dicks' captures the feeling and mood of this era so well. In addition, Dicks keeps the action level high. Every page was a pleasure, and I was sad that the book came to an end. In addition, the drawings included help the reader feel like he is witnessing the story.

The early Dicks' novelizations are well respected by fans because they were not just words copied from the script. Dicks' elaborated and refined the author's ideas. This is the case with the Abominable Snowman. A true glimpse into the past history of a great show, with Dicks' at the top of his game.

Treat yourself, pick up this story and relive a by-gone era of characterization and exposition. Take that Russell T. Davies.
By:
Trevor Smith, Nottingham, United Kingdom
Date:
Wednesday 1 August 2007
Rating:
8
Well written & fun. Sadly lost for ever.
| | | |
| --- | --- | --- |
| | | |
| | Troughton and Dicks at there best | |
| | | |
By:
C G Harwood, Dunedin, NZ, New Zealand
Date:
Monday 28 September 2009
Rating:
9
This is the best 2nd Doctor book that I have read (2nd only to The War games). This is the first of the 2nd Doctors to be novalised so i think that is why Dicks takes his time on this one, I only wish that he had been alowd to write most of his others like this. The charectors are great and you really get a feel for the cold and lonelyness of the himalayers. I read this book in the middle of winter and was reading it my bedroom without the heater on, and i think that added to my enjoyment of the book.
It makes me wish that this still exsisted in print, and also angree that this was destroyed but episodes like the Dominators wasn't.
I have also listened to the soundtrack for this and have come to the concluton that if the BBC ever get around to animating all these missing stories and putting the soundtarack on them (like they did to The Invasion) this would be the perfect one to start with.
I love this book, and if you are unforminlar with the 2nd doctor (or the black and white area) this is a great place to start reading.