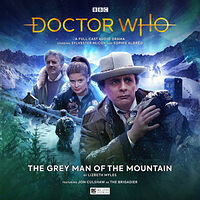 | | | |
| --- | --- | --- |
| | | |
| | Reviews for The Grey Man of the Mountain | |
| | | |
There is 1 review so far. To add a review of your own for this item, visit the voting page.
| | | |
| --- | --- | --- |
| | | |
| | A sublime blustery adventure in Scotland | |
| | | |
By:
Matthew David Rabjohns, Bridgend, United Kingdom
Date:
Tuesday 29 June 2021
Rating:
10
What awaits the TARDIS team in Ben MacDui?

I am so glad that Big Finish recently seem to have acquired a lovely new sect of superb female writers. Lizbeth myles delivers a cracker of a story here in The Grey Man of the Mountain. I am a sucker for all things snow and ice and mountains so this story had to be a purchase for me. I can easily say it didn't disappoint at all either. In fact this story highlights everything that I love about Big Finish.

First mention has to go to the superb sound design on this one. The feel of the Scottish Highland mountains is admirably supplied in a sublime soundscape and score. It evokes instant claustrophobia, which is really hard to get on audio but somehow Big Finish always manage these sort of sound scapes with consummate ease.

Then we have the unequivocal delight of hearing John Culshaw deliver his brilliant channelling of Nicholas Courtney's Brigadier. it is touching and brought a lump to my throat hearing John's remarkable rendition of Nick. John is just so good that it is truly like the Brig is back with us again for the duration of a frankly superb story.

Sylvester McCoy is Scottish too so its great to hear him as the Doctor in a Scottish setting too. And as ever he is aided no end by the remarkable talents of Sophie Aldred as Ace. Oh i could wax lyrical on just how awesome Ace is as a character and how well she and the Seventh Doctor work together. They really are a legendary double act and the more stories they do together for Big Finish the more I love and adore them.

I also love the wonderful character of Kirsty. She is fantastically portrayed by Lucy Goldie who gives her character a very lovable sense of warmth and maybe even slight naivety. But she takes a shine to Ace and its so great to hear them braving the elements together. Lizbeth's grasp of character is extraordinary in this story. every character is full on and beefy and well conceived. They truly pull you into the events of the story and make you feel bad for them when things start to go awry and amiss on the mountain.

The Grey Man of the Mountain is yet another in the pantheon of wickedly good seventh Doctor adventures. its nice to see him not in quite such a manipulative mood as in some other stories. In fact this story gives him something interesting to handle and Sylvester as ever is remarkable in the role.

This is definitely the kind of claustrophobic story I would love to hear more of from Big Finish. This is the kind of story I will easily find myself listening to again and again. It really is that good.