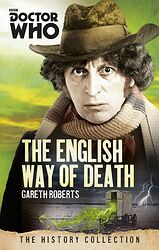 | | | |
| --- | --- | --- |
| | | |
| | Reviews for The English Way of Death | |
| | | |
There are 4 reviews so far. To add a review of your own for this item, visit the voting page.
| | | |
| --- | --- | --- |
| | | |
| | The English Way of Boredom | |
| | | |
By:
Tom Lingwood, Broseley, Shropshire
Date:
Monday 11 February 2002
Rating:
3
I hate this novel. In 1998, it was voted the best Missing Adventure in the 35th Anniversary poll by the Doctor Who Magazine. Last year, I found this book in a second hand bookshop for £2.50, so I brought it. I was hoping to have a good read but all I got was a load of drivel. It was boring and I couldn't get into it. This is supposed to be the best MA? More like the worst! Avoid this at all costs. Get The Plotters instead.
By:
Yumchan, Doncaster, England
Date:
Thursday 24 April 2003
Rating:
8
I read this straight after reading The Romance Of Crime which I had really enjoyed.
It begins with a good prologue, but then I felt that the first 'episode' seemed to drop off a little. Luckely though the book picked up after this, but not to the same level as The Romance Of Crime. The Doctor in this book doesn't seem quite as Tom Bakery as in R.of C. and the plot isn't as focused. However I found Romana to be exceptionally well portrayed here.
This is still another good book from Gareth Roberts with plenty of nice humourous touches along the way and well worth reading.
By:
Trevor Smith, Nottingham, United Kingdom
Date:
Thursday 6 November 2014
Rating:
9
If you've read any of Gareth Roberts splendid 4th Doctor, Romana and K9'novels you no what to expect with this novel.
Splendidly written, great characters, wonderful funny plot and the TARDIS crew written so well and with so much obvious love.
Another wonderful addition to the Gareth Roberts cannon.
By:
David Layton, Los Angeles, United States
Date:
Monday 12 June 2017
Rating:
5
The English Way of Death follows the joking, send-up style of the 1979 Doctor Who to a fault. Basically, a pastiche of 1930s society novels, this one has The Doctor, Romana, and K9 fighting a living, green cloud that smells like rotting vegetables that wants to destroy the Earth just because it can, and goes to enormous lengths to accomplish it, mostly by creating zombies. Joining our crew are a writer of mediocre detective novels looking for "artsy" types to boost her social life, a bunch of time traveller illegal aliens - humans who have decided to settle in 1930s Britain for a quiet life - led by a milquetoast who thinks he's the life of the party, an Italian countess turned master criminal, a self-important scientist, and a stuffy colonial ex-officer. They run through their various character clichés, so that the reader can take none of the characters seriously. Roberts does have a way of writing for Doctor 4 and Romana II that avoids the habit of overly emphasizing their eccentricities. These characters talk and act as they would have in the TV series.