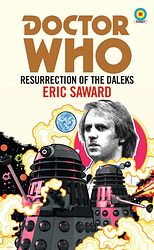 | | | |
| --- | --- | --- |
| | | |
| | Reviews for Resurrection of the Daleks | |
| | | |
There are 2 reviews so far. To add a review of your own for this item, visit the voting page.
By:
The Keeper of Traken, Canberra , Australia
Date:
Wednesday 9 October 2019
Rating:
3
This book is terrible. Eric Saward tries to be Douglas Adams in one of the darkest, most violent Doctor Who stories ever. This is very jarring to read, and makes the book very hard to read. Thankfully, the book is quite short, and doesn't take to long to get through. Despite this, the book is absolutely terrible.
By:
David Layton, Los Angeles, United States
Date:
Sunday 22 December 2019
Rating:
5
It took decades to get Eric Saward's two controversial Dalek scripts novelized. With this one, it was not worth the wait. Saward's novelization of his own script is worse than the original. The TV serial was pacey and action-packed enough to cover some fairly gaping holes in the logic of the script. Saward's novelization lacks this pace, mainly through dumbed-down prose. It may be that Saward was given the brief that he had to make the novel acceptable for pre-teens. Saward's answer to this is primarily to use ham-fisted foreshadowing of the "little did he know that..." variety. He occasionally breaks out of the juvenile novel mode with some equally ham-fisted side bars in "Hitchhiker's Guide to the Galaxy Mode." Some of the positive aspects are some deepening of the characters, some explanations of their motivations. This is especially important in giving a rationale for Tegan's departure. The book is a very quick read.