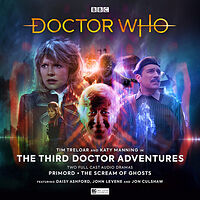 | | | |
| --- | --- | --- |
| | | |
| | Reviews for The Third Doctor Adventures: Primord / The Scream of Ghosts | |
| | | |
There is 1 review so far. To add a review of your own for this item, visit the voting page.
By:
David Layton, Los Angeles, United States
Date:
Wednesday 16 October 2019
Rating:
8
For the fifth of the revived Third Doctor series, Big Finish took a big risk in bringing back some more characters from that time. In two adventures, along with Jo Grant, we get The Brigadier, while in the first one we get Liz Shaw and in the second we get Sergeant Benton. Katy Manning and John Levene reprise their roles. To voice Liz Shaw, Big Finish used Caroline John's daughter, Daisy Ashford, and for The Brigadier they used John Culshaw. Both choices are excellent. Daisy Ashford sounds a bit like Caroline John, but rather than go for outright impersonation, she has gone with recreating the rhythm and tone of the character. John Culshaw, perhaps England's greatest living impressionist, does an outstanding job of recreating The Brigadier. At points the likeness to Nicholas Courtney is uncanny. Mostly, though, as with any impersonation, it is mainly about getting the tone and rhythm right. The stories themselves recreate the the early 70s manner very well. "Primord" is a sequel to "Inferno," but not one that simply repeats the elements of the original. The story moves on to the next phase, with some upper class characters motivated by potential power and fame hijacking research into the green goo from Stallman's drill. Somehow Liz Shaw is involved in this, but how and why are deftly deferred until the right moment in the script. "The Scream of Ghosts" is not as convincing as "Primord," but still enjoyable. A sound of many voices screaming is blasting its way across broadcast frequencies and stealing people from a village in the English countryside. There's a mystery here, related to secret research into mobile telephony that is not going according to plan. Big Finish have made the right choice to expand The Third Doctor series so that it is not just Jo and the Doc.