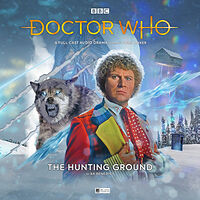 | | | |
| --- | --- | --- |
| | | |
| | Reviews for The Hunting Ground | |
| | | |
There is 1 review so far. To add a review of your own for this item, visit the voting page.
| | | |
| --- | --- | --- |
| | | |
| | Superb Icelandic Outing for Old Sixie | |
| | | |
By:
Matthew David Rabjohns, Bridgend, United Kingdom
Date:
Tuesday 26 May 2020
Rating:
10
Every now and then with Big Finish, after a run of already absolutely superb stories, you get one that is even that extra bit special. For me The Hunting Ground by AK Benedict is one of those stories. Colin Baker to begin with is on the top of his game here, its lovely in the bonus interviews at the end of the story to hear the writer herself show such warmth and love for this most undervalued and underrated Doctor. So good to hear that the writers love his oh so colourful and sparkly Doctor. And it aint hard to see why AK says what she does about Colin's sublime take on the role.

Colin gets to spar magnificently with the delightful Amy Beth Hayes as Yrsa Kristjansdottir. And one for certain can yet again that Amy should absolutely be a companion for his Doctor, oh boy yes she should. She's a great cop, with a firm and logical head on her shoulders and takes care of herself well within this superb tale. She also gets to act some touching and stirring moments of pathos whilst trying to discover why her Dad was murdered, and whom committed the murder. In fact I would go as far as to say that Amy has given one of my favourite performances of a character for a very long time in a Big Finish audio. Yes, I kid you not her strength of character yet her caring nature make her one heck of a character. Oh Big Finish when you restart the Doctors in their own box sets in 2022 please please please dont let Amy Beth pass you by again. It would be absolutely incredible hearing her be yet another new companion for Old Sixie.

I always love stories that are set in bleak and harsh landscapes too. And the sound and the score for this story work very very well indeed. The feel of this being set in Iceland feels totally authentic, but then again one has come to expect no less from the great Big Finish productions. The Hunter is a rather unpleasant and vulgar creation too, played with zeal and aplomb by Michael Griffiths. That he turns out to be not a wholly black hearted psychopath in the end though does make his final scenes in the play saddening and stirring. Its good that some writers seem to grasp the point that the best villains are written in shades of grey sometimes, and not just black and white. Yes his ending is actually saddening in the end and gives yet another added touch of emotional impact to an already emotionally rich story.

You can tell that AK knows her stuff about crime writing too. This tale flows along superbly well. A succinct and tight plot which never has any overtly distracting humour to ruin the tone of the story. It does though have a vein of light relief, this time in the amusing form of the two headed alien being Marfick. Both heads are brilliantly portrayed by Will Hislop and Joe Jameson. Both of these guys never verge on stupid either, and they make a memorable and decent and even lovable character indeed whose obsessed with all things administration!

Michael Griffiths also gets to portray Yrsa's father and its great to hear an actor being given two such polar opposite roles within a story. And Michael delivers fantastically for both roles. The story of her father's death is one that is extremely well portrayed. Malcolm James as the slimy creep Sigdor too really impresses with his performance. And we also get a very commendable performer in Harriet Colling's Frida too.

This story brings its twists and turns well, and has some moments I genuinely found quite surprising and brilliant to listen to. Margaret Ashley particularly as the DCi comes over very well as a character who isn't wholly ripe but at least still has a firm grip on her humanity, and throughout the story this comes over extremely well again indeed. The story has some great cliffhangers and the resolutions of those cliffhangers too are brilliant and inventive and all come together to make one of the most enjoyable and lovely stories I've heard in a while from Big Finish. In fact this may even be my favourite Big Finish outing for quite some time, and that truly is saying something with the fantastic array of stories we've been getting from Big Finish for the last few years in all their ranges.

A story rich with strong characters, highly charged performances and some sublime scoring and sound design, The Hunting Ground truly is a total winner of a tale and I please hope that Big Finish have the sense not to let the chance of Amy Beth's Yrsa pass them by. I for one definitely want her to be a new companion. Honestly I must even admit that shes made an even bigger impression on me than even Constance or Flip did in their debuts, and I adore both those characters to pieces. Sorry but I dont care if Im gushing. Its only due to the simple fact that AK has written a first class Old Sixie adventure where her writing of his character is absolutely spot on and Colin sinks his teeth into the role yet again and runs with it with the lovely Yrsa at his side. Honestly the vein of brilliant characters Big Finish create never cease to amaze me.

Wolves, Hunters, murderous intrigue and even some superb moments of intense pathos. Honestly what more could one ask from a story? Oh boy am I glad Big Finish gave us a jewel of an adventure such as this. This is one of those very rare cases where every single element of a story works perfectly and comes together to make a belter of a story.