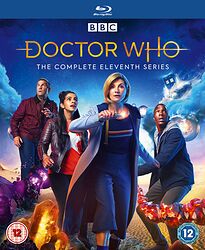 | | | |
| --- | --- | --- |
| | | |
| | Reviews for The Complete Eleventh Series | |
| | | |
There are 3 reviews so far. To add a review of your own for this item, visit the voting page.
By:
Matthew David Rabjohns, Bridgend, United Kingdom
Date:
Friday 25 January 2019
Rating:
10
I was very unsure of Doctor Who's future when I heard a lady was going to be the Doctor next after Peter Capaldi. I now apologize for my stupid pigheaded sexist remark and state quite unreservedly that Jodie Whittaker is the best thing to happen to the show since it rebooted in 2005.

I am a total die hard fan of her kind, caring, thoughtful and beautiful 13th Doctor. She is just s simple and amazing to love as a character. And all the companions have no idiotic traits and they all meld together more like a family than a Doctor and companions. Its a wonderful new direction that Chris Chibnall has brought to the show.

And the stories of season eleven just blew me away. There is extremely strong characterisation, extremely well plotted stories and some powerhouse acting. I also hugely enjoy the return of the proper historical story to the mix. Rosa and Demons of the Punjab and The Witchfinders are stunning in the portrayal of some less than brilliant times in human history. There are some gut wrenchingly sad scenes throughout these stories, and some moments of joy and wonder too. Its also so amazing to have a series of such variety too. The stories of this first season have been more varied than they have in yonks.

I truly cant pick any true favourites as each episode is amazing in its own way and they all get a huge thumbs up from me! Although the exquisite moments of Rosa and Demons of the Punjab make them definite highlights. The alien races all look amazing. The Pting, Tzim Sha, The mutated Spiders...all look brilliant in the extreme. The exquisite filming of the show too adds to the wonderful feel of this season too.

And I for one love the lack of foul language and swearing in this season. I just dont see the need for course lanaguage in every programme these days.

Perhaps the extras in the set are just a tad meagre, but the series itself is so beautiful and brilliant that I cant and wont mark it down for that. I love this series and Jodie to absolute bits. After years of frustratingly baffling and incomprehensible stories its so amazing to have a truly coherent and marvellous series once more. This is plain and simple magic...

| | | |
| --- | --- | --- |
| | | |
| | Mostly great except now the Pting exist. | |
| | | |
By:
Sofia Fox, El Paso, United States
Date:
Friday 1 February 2019
Rating:
9
All episodes were 5/5 except
Opener, The woman who fell to earth 4/5
4th Ep, Arachinids in the UK 4/5 (because spiders)
2nd ep, The Ghost Monument 1/5
5th ep, The Tsuranga Conundrum 1/5

The most developed companion is Graham. Ryan and Yaz are great too though.

Love Jodie's performance as the Doctor. Shame others don't think so.
| | | |
| --- | --- | --- |
| | | |
| | Sorely Lacking any significant VAM | |
| | | |
By:
Les Adam, Kyle, United States
Date:
Tuesday 19 February 2019
Rating:
4
This set seems to be lacking any real value added material. When the new series came out the boxed sets seemed to have been stuffed with hours upon hours of commentaries that were fun to listen to. This set just seems thrown together by the BBC and they are not showing any real effort to the fans. Sure there are a few commentaries, but it is very anemic in content.