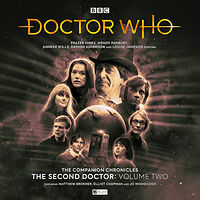 | | | |
| --- | --- | --- |
| | | |
| | Reviews for The Second Doctor: Volume Two | |
| | | |
There is 1 review so far. To add a review of your own for this item, visit the voting page.
| | | |
| --- | --- | --- |
| | | |
| | Yet again an awesome Pat display | |
| | | |
By:
Matthew David Rabjohns, Bridgend, United Kingdom
Date:
Friday 17 August 2018
Rating:
10
The Curator's Egg is a wonderfully bonkers tale indeed. Its bursting with larger than life themes, and the whole story is a wonderful mush up of brilliant ideas that form a whole that is wonderfully zany and crazy but still lovable. Anneke Wills really gets the chance to shine and proves yet again why she is such a great companion! Elliot Chapman really does himself proud as Ben Jackson and the two twin brothers who are totally radical and funny. Yet behind all the fun and lightheartedness of this story, there is still the touch of macabre horror and uneasiness. This all comes over as being superbly well fitting with the feel of season four on the TV series. Julian Richards has woven a very very pleasing tale with even a touch of Jurassic Park about it!

Dumb Waiter is a wonderful meeting of fierce minds, mainly those of Louise Jameson and Frazer Hines are superb as Leela and Jamie, who initially severely distrust each other and even get a brilliant sparring match. I also think how Victoria gets treated in this story is amazingly good. She gets to show us that she is more than just a screamer. Its superb to see her get much more development even if one is very sad Debbie Watling herself was no longer here to take on the voice of Victoria herself. Frazer yet again truly shines as the Doctor and Jamie and this story never loses pace and is very very good indeed.

The Iron Maid continues to maintain the complete superbity that is John Pritchard's writing. It was a total pleasure hearing his former companion chronicles and this story does not disappoint either. He has a knack of bringing superb historically flavoured stories alive. He treats all the characters he makes with the utmost respect. he is quickly becoming one of my favourite chronicle writers. His stories are character rich and extremely enjoyable to listen to. The setting of this story comes over superbly well with the sound design being amazingly effective. The sound of the knocking on the inside of the tank is extremely spooky. And to cap it all Wendy Padbury shines again as Zoe. Oh boy this story is freaking excellent.

And just to put the icing on yet another superb Second Doctor chronicles cake, we have The Tactics of Defeat by Tony Jones. What we get is the wonderfully unexpected return of Daphne Ashbrooke as Ruth Matheson. And yet again she doesn't disappoint. And Matthew Brenher delivers a brilliant performance as her jailer in this superb finishing story of this awesome set. And despite the fact that the Doctor is almost totally absent from this story, it still works so brilliantly as a story in its own right. And how Zoe fits in with it is brilliantly worked out and the story pans of perfectly. Its a great end to another run of four first class tales that makes me say I cant wait for the next second doctor volume!!!!