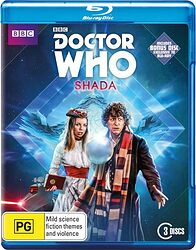 There are 2 reviews so far. To add a review of your own for this item, visit the voting page.
By:
Trevor Smith, Nottingham, United Kingdom
Date:
Thursday 14 December 2017
Rating:
10
I'll admit I was a little bit sceptical when I heard that Shada was to be the next classic story to be animated. Shada? Again? But oh this is so good and so much more than just a reanimation. The team behind this have really gone to town, not only animating missing scenes, but creating film scenes to fill the gaps and making them look like they were made in 1979 as well as getting the (surviving) actors to come back and fill in the missing vocal gaps. A ton of extras are including the VHS and Big Finish/Paul McGann versions of Shada. Wonderful stuff.
By:
Trixie Fox, El Paso, United States
Date:
Tuesday 7 May 2019
Rating:
10
The 10 stars are for the actual animation and story. I give 1 star for the US DVD release. Where WE have NO Blu-ray. (We might get it in Tom Baker: Complete Season Six, Season 17)
But come on, I regret owning the DVD now! Sure we the 2003 "sequel" animated webcast with the 8th Doctor, Paul McGann. But that's the only thing different to the UK DVD. Other than WE DON'T GET A BLU-RAY. So, if you're in North America, don't buy the classic animated releases that have Blu-ray (or even Steelbook Blu-ray) releases in the UK. They're region free (and they are for a reason). The Steelbooks are the ones that region-free, the standards are Region B locked. Needless to say, I'm getting them instead.