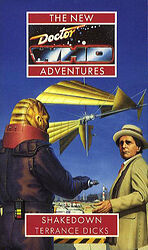 There are 3 reviews so far. To add a review of your own for this item, visit the voting page.
| | | |
| --- | --- | --- |
| | | |
| | Twice As Long As It Needs To Be | |
| | | |
By:
David Layton, Los Angeles, United States
Date:
Saturday 6 September 2003
Rating:
4
The origin of the novel is the independent video of the same name. And like that video, the first 1/2 of the novel which retells it is compelling knock 'em off one by one murder mystery, like "Horror Of Fang Rock." The second 1/2 of the book is clearly added to make it novel-length, and as such is pure padding.
By:
michael, Hobart,Tasmania,Australia
Date:
Tuesday 18 May 2004
Rating:
3
Predictable, trite and really dissapointingly written, I expect more from Terrance than this.
Plus I hate the Sontarnans because their heads look like giant dried grapes, I hate the Rutons because the idea has great gaping holes in it, and I hate the Ruton/Sontarnan war because the entire deadlock idea never had a lick of sense to it, ever when the Dalek/Movellians did it.
fantastic, cool what can i say easly contented