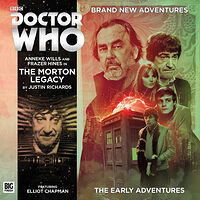 | | | |
| --- | --- | --- |
| | | |
| | Reviews for The Morton Legacy | |
| | | |
There is 1 review so far. To add a review of your own for this item, visit the voting page.
| | | |
| --- | --- | --- |
| | | |
| | Absolute gem of a Troughton outting | |
| | | |
By:
Matthew David Rabjohns, Bridgend, United Kingdom
Date:
Friday 17 August 2018
Rating:
10
After a pure historical and a brilliant sci-fi fest for the Second Doctor early adventures second series, what can we expect from 'The Morton Legacy'?

After the Doctor and co are stranded in the nineteenth century, their hunt for the TARDIS leads them to a string of murders. With seemingly only one possible culprit, it's up to our heroes to prove his innocence and find the ship. Unfortunately, there's Josiah Morton has a reputation. You might even say, a Morton Legacy.

Justin Richards is a regular contributor to Big Finish and for good reason. And while this lacks the scale of a grand adventure, it has the personal touch of a smaller, but no less entertaining, story. Justin's writing is always incredibly diverting and always has us doubting if we can trust Morton.

'The Morton Legacy' is quite special on a few levels. The acting is as ever, perfect matched to the story. Director Lisa Bowerman has chosen the strongest talent to perform in this story. David Sibley is totally winning as Josiah Morton. Frazer Hines is once more sublime channelling Patrick Troughton as the Second Doctor. He does all this and still manages to recreate Jamie with no trouble. Anneke Wills and Elliot Chapman are wonderful together as Ben and Polly also.

Big Finish go to great lengths to make this as authentic a Sixties era sounding adventure as possible. Toby Hrycek-Robinson has provided the score and sound design, giving the piece a very consistent soundscape. It evokes the 1800s while still feeling like a sci-fi serial made with Sixties sensibilities. Lisa Bowerman's direction as ever too is spotless.

Not for the first time, Jamie taking a shine to a guest character: the charming Jemima Morton, played superbly by Kerry Gooderson. The playful ribbing between Ben and Jamie over his crush is a light-hearted touch that the classic era of the show always had in such abundance.

Jemima isn't the only one along for the adventure, however. We get a well-rounded and decent performance from both Ewan Bailey and Alan Blyton as Copeland and Dexter. But it's Bailey who steals the show in a dual role, also playing Morton's manservant Blazzard. His performance has all the subtlety and panache of all the best Doctor Who henchmen.

Justin's pacing is spot on, despite the fact that this isn't some high octane all guns blazing adventure. It is a joyous little story with extremely strong characters and a well thought out plot with a great twist near the end. My only nitpick may be that Jamie's crush doesn't get the resolution that I was hoping for. It's definitely in-character for the shy Scotsman, but a little more of a payoff would have capped it neatly.

With some great character touches and good humour, this is yet another firm success for Justin Richards and Big Finish. Thank goodness the Sixties era of the show is kept alive and fresh by such amazing talent! This is definitely a love letter to the brilliance of the Troughton era!