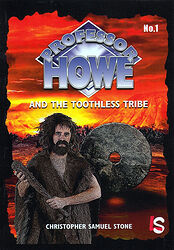 | | | |
| --- | --- | --- |
| | | |
| | Reviews for Professor Howe and the Toothless Tribe | |
| | | |
There are 3 reviews so far. To add a review of your own for this item, visit the voting page.
By:
ross hamilton, basingstoke, United Kingdom
Date:
Wednesday 14 March 2018
Rating:
10
I loved everything about this book. A parody of An unearthly child/The tribe of gum and it is fantastic! Read it in one sitting as extremely easy to read and a constant joy that had me laughing nearly every page. Buy it now while there's still time as it's also for a great charity. Looking forward to the sequels!
By:
Helen Stirling, Poole, United Kingdom
Date:
Wednesday 28 March 2018
Rating:
9
Sit back and enjoy the ride. Full of giggles and very entertaining
| | | |
| --- | --- | --- |
| | | |
| | Good fun for a good cause | |
| | | |
By:
Don Klees, Silver Spring, United States
Date:
Saturday 7 April 2018
Rating:
8
Toothless

Two main qualities tend to distinguish good parodies from the bad. Good ones are generally made by people with an appreciation of the work being spoofed and often serve as good examples of the subject even as they're poking fun. Good Doctor Who parodies rely on a further dimension - a focus on the narrative conventions rather than budgetary ones.

In television terms, it's the reason Curse of the Fatal Death was magnificent while the sequence with David Tennant and Ricky Gervais in Extras was woefully unfunny, but the principle also applies to other mediums. Professor Howe and the Toothless Tribe - a parody of the very first Doctor Who adventure - aligns itself far more with the former category. Written by Christopher Samuel Stone, the book is the first in a series of novels raising money for the UK's Children in Need charity, which makes it good fun for a great cause.

The starting point of the Professor Howe books are the numerous novelizations of the original television stories published for many years by Target Books. Written mainly in the 70s and 80s at a time when the majority of televised stories were largely unavailable, for at least one generation of fans the novelizations were as much Doctor Who as what had actually been broadcast. In some respects they were superior. The tension between budget and imagination throughout its history, the program was particularly suited to "theater of the mind".

Professor Howe and The Toothless Tribe deploys some nice jokes related to this aspect, the nature of the Professor's craft chief among them. It also finds plenty of humor in the current political climate, which for better or worse lends itself to the caveman setting. It's the nature of any parody that some jokes come off better than others. In the end, though, this book is good fun for a good cause and worth a look if you're a fan who can both love and laugh at Doctor Who.