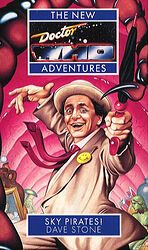 There is 1 review so far. To add a review of your own for this item, visit the voting page.
| | | |
| --- | --- | --- |
| | | |
| | Great humor.. too much sex and violence | |
| | | |
By:
Virtual Vikki, Red Bluff, CA, USA
Date:
Wednesday 7 August 2002
Rating:
10
By David Stone (the author of three Judge Dredd novels) he also wrote one of the solo Benny novels and two other NA's.

Avast, ye scurvies! Hoist the mainbrace, splice the anchor and join the Doctor and Benny for the maiden voyage of the good ship Schirron Dream, as it ventures into the fungral dark air spaces occupied by the Sloathes - those villainous slimy evil shape shifting monsters of utter and unmitigated evil that have placed a system under siege!"
There are several interior illustrations and one very unusual map-diagram in the back of the book.
The back of this book was very odd. The standard blurb about the New Adventures was replaced with this...
"Stories deeper, wider, firmer, plumper, perkier, yellower, crisper and with more incredibly bad jokes than you can shake a stick at, theNew Adventures take the TARDIS into previously unexplored realms of taste and stupidity."

A lot of people really hated this book. I thought it was the best book so far of the entire series. Some of the gags are fantastic. The humor is good. On the down side, there is quite a bit of sex near the beginning of the novel when Bennie and the Doctor take up working in a brothel. There is a bit of violence too. Perhaps a bit more than needed to be in the story. The pirate aspects are good. The characters are very very likable. I was glad it was one of the longest Doctor Who books to date. I was a bit sad when it was over. I wish it could have gone on longer.