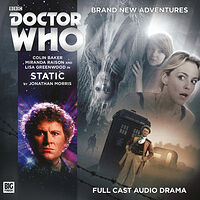 There are 2 reviews so far. To add a review of your own for this item, visit the voting page.
| | | |
| --- | --- | --- |
| | | |
| | A Wonderful Chiller indeed | |
| | | |
By:
Matthew David Rabjohns, Bridgend, United Kingdom
Date:
Friday 17 August 2018
Rating:
10
It's been some time since Big Finish have produced a story that is genuinely non-stop disturbing and unsettling.

But 'Static', featuring the Sixth Doctor, Flip and Mrs Clarke, is more than enough to send a shiver down the spine.

First we have to mention the superb sound design and production, delivering an incredibly atmospheric tone. The sense of loneliness in the Caravan Park setting is well delivered; the mist is also somehow felt by the audio instead of seen. With a story set mostly within the confines of the park, it's not surprising that the soundscape is very claustrophobic. Chris Dale, as the voice of the Static, gives a weird, eerie performance.

Colin Baker is superb as the Doctor, as always. As his audio-tenure so often has, the Sixth Doctor is once again shown to have two caring hearts beneath the bluster and self-aggrandising. Writer Jonathan Morris' grip on each Doctor is always superb and he's well known to use time as a major element of his scripts. But here he uses time in a fresh and beguiling way, which has to be applauded. This story is about as timey wimey as they get.

The consequences of messing with time are once again laid out in effective detail. Each of the characters must find a way to deal with the fallout of what is going wrong with time. Which has set loose the frankly soulless Static to do what he wants to the human race. Morris somehow manages to combine so many different elements together in a narrative that is never convoluted or rambling.

Miranda Raison and Lisa Greenwood together still make for a dream team. Constance is the mature older sister and Flip is the teenager learning that she might need to grow up. Both characters are so well drawn, especially in the face of the wringer which Morris puts them through. It takes fine actresses indeed to deliver the goods and both deliver 100% along this adventure. The whole cast is pushed down some very nasty paths. It wouldn't be surprising if wounds incurred here take some time to heal in future stories. Percy Till, played by David Graham, is a character whose plight you end up sympathising with more than you'd expect. As an old-hand in Doctor Who, it's sometimes a little hard to separate the actor from the character. But that actually works to the advantage of this release.

Doctor Who is at its best when great acting, superb monsters and plenty of scares blend in one story seamlessly. 'Static' delivers on all these areas and more. Jonathan Morris is a safe pair of hands to craft this kind of tale. This story boasts all the fear factor that made 'The Chimes of Midnight' a firm fan-favourite. It seems likely that 'Static' will gain the same renown, and deservedly so in this chilling production. Its one Id give a recommendation of to anyone.

By:
David Layton, Los Angeles, United States
Date:
Wednesday 13 March 2019
Rating:
7
Static is an example of great buildup marred by a predictable final act. The story itself, of a creepy caravan park, its creepy manager, and the return of the dead, works very well. It all has a strange logic. This gets undermined in part 4 when we discover that it is all another alien invasion plot. Also, there is the matter of Constance at the end. This sets us up for Constance's becoming another Charley, someone alive who should be dead. And we all know how in Big Finish world, the universe just will not stand for that.