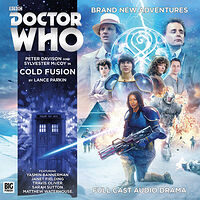 There are 2 reviews so far. To add a review of your own for this item, visit the voting page.
| | | |
| --- | --- | --- |
| | | |
| | A Brilliant Audio Re imagining | |
| | | |
By:
Matthew David Rabjohns, Bridgend, United Kingdom
Date:
Saturday 21 January 2017
Rating:
10
I never read Cold Fusion when it was first released. I was never tempted to buy it either when I saw the price of the book now online. But I was really glad to hear when Big Finish announced they would be doing an adaptation of Lance Parkin's novel.

Let me begin by saying I am a huge fan of Lance's writing now. His audio drama Davros I still take to be the definitive Davros story. What impresses is his grasp of the characters. They seem totally one hundred percent real and true. But this review is not about Davros so down to business.

Well, I got Cold Fusion and didn't really know what to expect from it. But I knew it would most certainly be memorable. And I wasn't wrong. The picking of the Fifth and Seventh Doctors to meet was inspired. So we have one of the most agreeable and human like Doctors meeting the most manipulative and devious incarnation! And boy it makes for some tremendous scenes in this fantastic story!

Multi Doctor stories are always going to b huge fun no matter what the story content is actually like, but with Cold Fusion we get multiple Doctors but also with an excellent story line. And not only that, but we get FIVE companions thrown into the mix. Sarah Sutton is as lovely as ever as Nyssa, Tegan is her usual gobby Australian self, Matthew Waterhouse is back as the great Adric. And then we have Travis Oliver and Yasmin Bannerman as the delightful adjudicators Cwej and Forrester. And together they are an often chaotic but brilliantly matched brew. I particularly loved Adric's scenes with Forrester. And Nyssa's deep embarrassment as a nude Cwej in the hotel room! They were hilarious scenes. And then Nyssa gets some good scenes with Cwej as they start to really get on well with each other. I found these scenes too to be touching and really cool.

Then we also get a rarity. Patience. The Doctor's wife maybe? I love how Lance portrays this character, with bucketloads of mystery and suspense. And not all the questions about her character are answered by the end of the story. There are only slightly taunting hints as to her past with the Doctor. She is a time lady, and she certainly knows the Doctor well. But the vagueness surrounding her whets the appetite and just leaves me wondering more and more about this character. I do hope Big Finish have the sense to get her back again one day again. I cant wait to see if we get a return. Kristine Kavanagh must be praised. I love her in the role of Patience. She was perfect.

But its still the two Doctors again where the most fun is to be had. Sylvester McCoy is again such a little sly fox in his dealings as the seventh Doctor with his earlier incarnation! But Peter Davison rises to the challenge and has some great lines for the seventh Doctor to hear too. Lance really made the most of these two oh so different incarnations of the Doctor here. Lance has done a brilliant story for the two of them!

I like also that the seventh Doctor meets Adric...and that makes for some great scenes of subtlety on the doctor's part so as to not give away what is to happen to the ill fated Alzarian. Matthew Waterhous really is back in the TARDIS again with the brilliant eighties crew. I am delighted to have him back for more stories.

So I cant give this brilliant adaptation less than a whole 10 out of 10. This is awesome Doctor Who!


By:
David Layton, Los Angeles, United States
Date:
Wednesday 13 March 2019
Rating:
8
This audio of version of Lance Parkin's typically complicated novel works extremely well. It's a two-doctor story, but Doctor 5 takes most of the narrative space. We get Doctor 5 and friends stumbling upon a plan hatched by Doctor 7 with newish companions Chris and Roz. Doctor maybe does and maybe doesn't remember his first time through it all. The story allows for interesting pairings of companions, with mild-mannered Adric teaming with soldierly Roz, while Nyssa gets romanced by Chris without a clue that this is what is happening. Some great humor comes from Tegan's outrage at Chris's phony Australian cover. The whole is well plotted and very entertaining, but a little talky at the end.