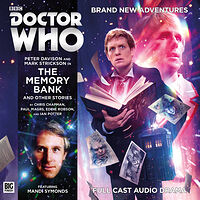 | | | |
| --- | --- | --- |
| | | |
| | Reviews for The Memory Bank | |
| | | |
There is 1 review so far. To add a review of your own for this item, visit the voting page.
| | | |
| --- | --- | --- |
| | | |
| | A very very enjoyable selection of tales | |
| | | |
By:
Matthew David Rabjohns, Bridgend, United Kingdom
Date:
Tuesday 30 April 2019
Rating:
10
What I like about these selection of half hour stories for Big Finish is they seem very in the vein of Tales of the Unexpected. In that they are totally random and different and yet all display equally brilliant sections of what it is that makes Doctor Who so great. Peter Davison and Mark Strickson are a brilliant pairing, and I for one wish Mark didn't have such an eclectic schedule so that he could do a few more audios!
This selection are all very very good indeed. These are on a par with Forty Five and Circular Time. They all have markedly different tones, but are all amazingly quick and easy to follow and superbly written. They are tension packed snippets that somehow don't even particularly suffer in the characterisation department. These characters in these tales are surprisingly very well rounded, and none feel superfluous to the story.

The Memory Bank is perhaps maybe the least gripping of the lot, but it is still a very strong story indeed. Its great to see a little of Turlough's past crop up again even if its this time not a huge snippet. But the story never bores and is suitably cool.
The Storyteller is yet another little Paul Magrs marvel. He always paints the best characters ever in his stories. They are always so larger than life and some of the dialogue is very whimsical and amusing indeed. This joins all his wonderful successes for Big Finish.
Repeat Offender seems like its over in a flash. It is a strikingly strong little episode and the performance of Peter Davison in this story is particularly brilliant. There is some strong tension in this story. Its actually its a bit of a shame its so short, this could have been expanded so easily. But as a snippet its really very impressive.
The final story is very very fine indeed. Its a very very small cast, but its extremely thought provoking and intelligent. The sound scape is as usual of the epic Big Finish sound design and production. And I really enjoy Helen Goldwyn's direction. I am so glad to see more female directors emerging for Big Finish recently. This selection gets a full recommendation from me. Big Finish always deliver in the entertainment department. And The Memory Bank and Other Stories is certainly no exception at all!