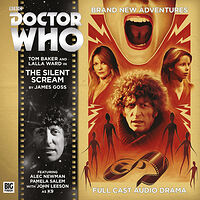 | | | |
| --- | --- | --- |
| | | |
| | Reviews for The Silent Scream | |
| | | |
There is 1 review so far. To add a review of your own for this item, visit the voting page.
By:
Matthew David Rabjohns, Bridgend, United Kingdom
Date:
Tuesday 30 May 2017
Rating:
10
What I love about Big Finish is they always get the tone of a season right when they place new stories within it.

The Silent Scream truly feels like a season 18 story indeed. Tom Baker is as ever reliably mesmerising as the Doctor. I love how he stops the deviant freak in this excellently produced story. Lalla Ward is always brilliant as the more aloof Romana and its great to see and hear that she is not beyond falling into traps herself. Many times in her seasons she was so up herself at times, but lovably so.

Pamela Salem also makes a great return to the Doctor Who world proper, she's amazing in Counter Measures and its always a pleasure to hear from her whenever she appears in the show, be it in TV or the radio. Big Finish always know how to pick a cast.

This really does feel like authentic 1920's Hollywood. The air of American oozes from the script which is faultless and highly engaging. This is probably my favourite story by James Goss so far. He's always an intelligent and original writer and he always somehow weaves some great light touches of humour to an otherwise very dark and grim story.

The last season of Tom's on TV seems to be overlooked and labelled weak although I do not agree. It was packed full of highly imaginative yarns with an increasing reliability on real science and not just fantasy. And the Silent Scream is the perfect mix of action, humour, horror and very good pacing so one is hooked all the way through.

So far season six of the Fourth Doctor adventures continues Tom's epic return to the role of the amazing and brilliant Fourth Doctor! And its wonderful that K9 too is used well and not just busted or blown up like season eighteen and seventeen seemed to do quite a lot with him. He is a great character and John Leeson is always superb as the robot dog.. It is little wonder he is so fondly remembered.

The Silent Scream comes very highly recommened. Its a great slice of "period history with sci fi twist" indeed. I wasn't disappointed by this story.