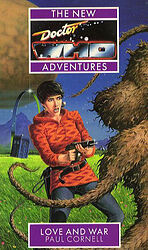 There are 5 reviews so far. To add a review of your own for this item, visit the voting page.
By:
Whites, Southend, England
Date:
Monday 8 May 2006
Rating:
8
I 1st read this book when i was 12. 14 years ago.
I found it in a box and re-read it last week, not as good as the 1st read as my memories of it were so fond...
The Doctor is portrayed here in such a fantastically dark and secretive way, defining MY Doctor and also exploring his feelings and relationships with his companions in much the same way the "new who cru" are doing with The Proffessor and Rose Tyler in the new show...

Ace's departure was an end of an era for me, done really well by Mr Cornell, never has a companion left him in this way, never has he done this much to one.

The way Benny's character was introduced was also done very well, although i must say i haven't pursued her stories for the pure fact that she's not Ace! (sorry benny fan's i'm very biased- she was MY doctor's companion!)

The Verdict- could of been longer and gone more into the jan/ace/doctor thing. Stunning monster's and worth the read if only to say goodbye to our dear dorothy...
| | | |
| --- | --- | --- |
| | | |
| | Creepy, Sad and Irritating. | |
| | | |
This book is well written, but it may very well be the most despair-filled novel in many a year. Why do Paul Cornell's books make me so depressed and unhappy? Why does the heavy atmosphere of a funeral hang over practically every one?

I find this book to be a work of genius, but it is not really entertaining to read. The villains, the Hoothi, are brilliantly imagined, but grotesque and sad, and what they do to everyone simply gets weirder and sadder as the novel goes on.

Why does Paul Cornell dwell so much on darkness and gloom? Doesn't he ENJOY writing novels? Why doesn't any of that shine through more clearly?

Overall, this book is utterly without light, life, or, despite the title, Love. There's a little bit of rather distasteful fiddling about between Ace and her new boyfriend (ugh,) but that's not love. That's not even a good excuse for it.

Maybe I'm just an old romantic, but I like a bit of old-fashioned charm between people in love, some honest-to-goodness joy, which we just don't get here. Ugly and unpleasant.

Paul Cornell, I must conclude, is probably a sad, sad man, dwelling with heartbreak and loss, obsessed with loneliness and a world-weary despair. Even his one (so far) penned episode of Christopher Eccleston's Doctor Who T.V. series was the saddest one yet, exploring themes of death and mourning, the emptiness of irreversible tragedy. There was even a Church in it, just like in Revelation! Where does it stop, I ask you?

After reading Love and War (but mostly War,) I felt as if I had been raped emotionally. I find this book irritating because it is monsterously bleak, punky and unhappy. I give it two stars only because it is written with nice short sentences; it is easy to read. But that is all. Avoid it if you value your happiness.
| | | |
| --- | --- | --- |
| | | |
| | you will love it, or hate it | |
| | | |
By:
C G Harwood, Dunedin, NZ, New Zealand
Date:
Saturday 29 December 2007
Rating:
3
I was hoping that reading this book a 2nd time would make me like it more than i did the first time, but i was was wrong. Although his writing for the Doctor and Ace was a lot beter than i remembered.
This book (and Paul Cornell's work in general) is eather you like it or you hate it. The first time i didn't like the book cause the plot was terrile, but this time i didn't like it for a diffrent reason. This book had a lot of potental but fell very short of what i hoped for.
The charecter i hated the most was Jan. He was a idiot, I couldn't see what Ace saw in him. Most of the charecters where badly writen and i just didn't care about any of them by page 40. The Travellers were bland and seem never to come alive - sad, they had potential.
The worst part for me was the chapter (15 i think) where Ace is in the lifepod and is crashing back to the planet. it was 5 pages of dribble which put me asleep everytime i started reading it.
Maybe its just his novel wrighting cause i have loved everything he has done for TV Dr Who so far, i just can't read his stuff. prehaps i'll go and read Human Nature and restor my faith in him.
3 out of 10.
| | | |
| --- | --- | --- |
| | | |
| | Love and War - Not bad/Not great | |
| | | |
By:
Mark List, Midland, United States
Date:
Tuesday 3 May 2011
Rating:
5
This book was OK. It was worth reading just to see the introduction of Benny and the departure of Ace (which was somewhat sad).

It kept my ineterest and I didn't have any trouble remembering what was going on. I found the relationship between Ace and Jan completely ridiculous. Ace was such a strong minded companion to the Doctor, and Jan was such a stupid character that I found no chemistry between them. I felt that the only reason the relationship was there was so that there was a reason for Ace to leave.

The concept of the story was quite interesting and rather enjoyable, but it got distracted by the relationship sub-plot.

Would I read it again? Sure.
Would I put it at the top of my list to re-read? No.
| | | |
| --- | --- | --- |
| | | |
| | Ace, Hippy, Fungus & the internet | |
| | | |
By:
Clive T Wright, St Lawrence, United Kingdom
Date:
Sunday 7 August 2011
Rating:
7
Love & War in many ways would have been ideal for the 7th Doctor on TV. As you read you can imagine all the hideous hippy costumes in a green lush world. The underlying myth of the planet combined with cyber/internet hippies somehow works. Doctor Summerfield is of course great from the very start.

Ace finally getting fed up with the Doctor using her all the time is not a surprise, but the gang of loosers she hooks up with are at times a pain.

All in all an entertaining story, which could have been very good but the fungus people are dealt with a little too easily for me.