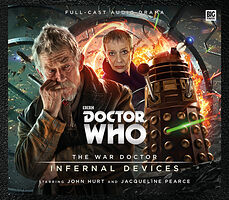 | | | |
| --- | --- | --- |
| | | |
| | Reviews for The War Doctor: Infernal Devices | |
| | | |
There are 2 reviews so far. To add a review of your own for this item, visit the voting page.
| | | |
| --- | --- | --- |
| | | |
| | A superb stellar folllow on... | |
| | | |
By:
Matthew David Rabjohns, Bridgend, United Kingdom
Date:
Friday 9 December 2016
Rating:
10
I just love John Hurt as the War Doctor. To me yet he still has not done one thing worthy of his saying don't call me that anymore! He is still the Doctor just in one of the hardest times of his long and exciting life. And the Big Finish Team had a lot to do to see Infernal Devices was anywhere near as good as Only The Monstrous. But somehow, they did it with consummate ease.
I just love John's take on the Doctor. He is sarcastic and abrasive and clipped severely but somehow I just absolutely love him to bits. He is such a very very fine actor. And pair him off with the likes of Jacqueline Pearce and you're bound to succeed. Only The Monstrous was a brilliant first outing for the War Doctor on audio, and now we have the follow up:

Legion of the Lost is a gritty and hard piece of Doctor Who story telling written by the ever dependable and reliable John Dorney. And we also get the super David Warner again in this stupidly awesome and dark tale. He plays his character really malevolently, and his clashing with John is both memorable and superb in the extreme. This is definitely a harsh and dark tale that takes you for a great and emotional ride. Its portrayal of dark times religions and fears is very strongly put across. And we also have a tiny bit of nostalgia in the fact that the varga plants are back again! Yes, so Mr Dorney opens up this second trilogy of stories faultlessly.

And then it just gets better with the all out war story tale A Thing of Guile by Phil Mulryne. This is a splendid story. Truly epic and never once pausing for breath from the minute it gets going. And I love the design of the huge alien worms and the sound design on this story in particular is cinematic and seriously cool. This is definitely the kind of story the new TV series should try and do a bit more often. It would be so much the better for it. Mr Mulryne has done a brilliant story here.

And then we close with the epic The Neverwhen by Matt Fitton. Yet another superb and brilliant writer. oh the Big Finish team did themselves proud with this set and their choice of writers. Matt's script gives John some brilliant spiteful things to shove down the throats of his own hypocritical race. Cardinal Ollistra is absolutely a class deviant villainess, and Jackie Pearce is so brilliant in the role. Her and John are such a great double act, as I've said. I really like how these war Doctor stories are really muddying the name and whole race of the Time Lords. They have always been deviant and treacherous and this makes for some superb listening.

I was a little worried that after the phenomenally good Only The Monstrous that Infernal Devices couldn't come close. I've never been more glad to be proved wrong. Infernal Devices is yet another War Doctor and John Hurt must have. John is well and truly the Doctor!!!!!
By:
David Layton, Los Angeles, United States
Date:
Friday 6 January 2017
Rating:
8
The second War Doctor trilogy is a step up from the first. Perhaps using three writers rather than one made a difference in this case. There is a story arc and central theme of the "infernal devices," horrifying weapons. The catch is that the weapons are being developed by the Time Lords, not by the Daleks. This goes along with the theme of the moral drop of the Time Lords as the Time War continues. It also helps to provide rationale for the moral dilemma the War Doctor faces in Day of the Doctor. The conscious effort to explain how the Doctor becomes that person works well in this set of adventures.

It starts with Legion of the Lost, in which the Time Lords try to create a zombie army that can be eternally resurrected. David Warner plays the high priest/planetary leader of the planet that uses "magic" mixed with technology. They have tapped into something from the dark times. Have the Time Lords gone too far?

Next is the Alastair MacLean secret mission story A Thing of Guile. The Time Lords have stumbled on a secret Dalek base, so secret that Dalek High Command does not even seem to know about it. A team of commandos, including Prisoner 001, the Doctor now charged with war crimes, must sneak in to find out what the Dalek secret weapon might be.

Third is a return to the eternally resurrected army concept with The Neverwhen. This time, the Time Lords are using their own technology. As far as the War Doctor is concerned, that only makes it worse.

Despite being written by three different hands, there is a nice continuity of quality in this set. John Hurt is suitably impressive, as is Jacqueline Pearce as his High Council foil, Cardinal Ollistra. The acting all around is quite good. Big Finish also really have sound design down to a fine art. The two point deduction from me on this has to do with the limitations placed by having the series in the Time War scenario. I know this cannot be helped, but it does rather limit what the Doctor can do, and what the writers can do with him. The Doctor is in constant state of moral outrage, and must say that everything is "horrifying" just a little too often. So, the formula becomes "present situation that will suitably horrify the Doctor, have him say how horrifying it is, have him forced into doing something against his moral code, and then have him agonize about doing it." These elements are just a little too predictable. Otherwise, this box set is quite enjoyable.