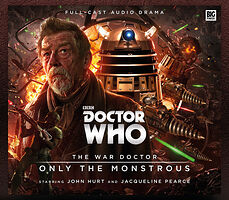 | | | |
| --- | --- | --- |
| | | |
| | Reviews for The War Doctor: Only the Monstrous | |
| | | |
There are 4 reviews so far. To add a review of your own for this item, visit the voting page.
By:
Matt Saunders, Buckinghamshire, United Kingdom
Date:
Sunday 20 December 2015
Rating:
10
This was just wonderful, fun and fascinating. Well done, Big Finish! Sir John was excellent, as was Jacqueline Pearce, and the other actors. I really liked the character of Rejoice. I can't recommend this audio set enough. It doesn't matter if you like the new or old series best: this has a foothold in both! Sir John, I salute you. Thank you.
By:
James Vick, poole, United Kingdom
Date:
Thursday 7 January 2016
Rating:
9
At last! John Hurt is back playing the War Doctor and its brilliant! John Hurt is an absolute delight to listen too and the supporting cast are also amazing. 9/10
| | | |
| --- | --- | --- |
| | | |
| | John Hurt is definitely sublime | |
| | | |
By:
Matthew David Rabjohns, Bridgend, United Kingdom
Date:
Saturday 26 March 2016
Rating:
10
Only The Monstrous has to be one of my favourite audio drama sets ever. It has it all:

1: The return of John Hurt as the War Doctor! And John is a brilliant actor, and as with every other actor to play the Doc, he instantly adds his own touch to the character which is immediately memorable and catching too. I love this Doctor's dry sarcasm and flat out rudeness that even tops the first Doctor in my opinion! His sarcastic quips made me wet myself! But he also has those moments that truly still say here is the man we all know and love. And I instantly love John as the War Doctor. He is such a brilliant actor and I'm glad he's come aboard the Doctor Who boat. And I'm glad he's been given a far better story than the TV anniversary show. For me it was only John who saved that from being totally forgettable!

2: The characters: Ollistra, played by Jacqueline Pearce is a wonderful time lord deviant creep. And Jacks Pearce is totally awesome in the role of the high up ponce of a time lady. He sparks with John Hurt are really riveting and made me smile a whole lot. Rejoice is a lovely character, for me rather in the line of Nyssa, in that she's not an overblown scheming or loud mouthed little minx. No, she's just a brilliant and instantly lovable character. I loved her character to bits. Her aiding and caring for the weary and injured Doctor makes for some moments of great pathos.

3: The production and sound design: this set sounds truly cinematic. The score is absolutely excellent, and gives the three stories such a breadth. Its like going to the cinema with your eyes closed!

Nick Briggs finest hour as a writer I think is presented here. The war themes are very strong and convincingly portrayed. The psychos are diverting and really nasty. Everything Doctor Who should be is encapsulated in this opener of the War Doctor on audio. I cant wait to get Infernal Devices! John Hurt IS the Doctor now along with every other one....
| | | |
| --- | --- | --- |
| | | |
| | Good Introduction to New Doctor | |
| | | |
By:
David Layton, Los Angeles, United States
Date:
Sunday 29 May 2016
Rating:
7
Getting John Hurt to reprise his role as the War Doctor was a coup for Big Finish. This, plus getting Tennant and Tate, solidified Big Finish as a legitimate alternative Doctor Who production company. Nick Briggs' introduction to the War Doctor is designed primarily for that purpose, to establish the character and the general type of story he will occupy. Therefore, there are not many risks taken in the storytelling. The three 45-minute episodes comprise what we can call a "season," with a story arc and repeated characters. Briggs has smartly read the character of the War Doctor so that he does not get a "companion" in the traditional sense. This Doctor is a loner. The basic story is that the Doctor (don't me THAT!) has apparently died in defeating the Dalek time fleet. However, the chief strategist Cardinal Ollistra, played with relish by the formidable Jacqueline Pearce, does not believe it. Part one, "The Innocent," finds the War Doctor landing on a peaceful planet that has escaped a war of its own, beset by their own implacable, genocidal enemy. The Doctor meets Rejoice, a character just a bit too sweet to be believable, helps keep the would-be conquerors at bay, and then gets sucked back into the Time War. In part two, the Doctor is added to a team to go deep under cover behind enemy lines, and lo and behold, it is back on the planet he had just landed on in part one. It is now decades later and the Daleks have formed an alliance with the other genocidal race. The Doctor meets a much older Rejoice, though only slightly less sweet. Of course, the mission is not what it seemed and there are some questionable characters on the mission. Part three is a direct sequel to part two, playing out the mission to its end and establishing the Doctor - Ollistra partnership. Part one is designed to provide the Doctor with a parallel situation to the Time War and thus allow him and the audience to reflect on the morality of war. Parts two and three provide numerous touchpoints with classic Who, especially in the Dalek plan, and provides more opportunity for discussion of the morality of war. In particular, we get a Time Lord fanatic who believes in peace at any cost versus the Doctor, who knows that one cannot negotiate with "monsters" and that war forces even good people to become monsters. Thus, the Doctor must argue with the man he would like to be and accept, however reluctantly, the man he has become. John Hurt pulls this off brilliantly, mostly by never overplaying the emotions. His controlled delivery and careful modulation carry the character's sadness and disgust far greater than shouting would ever do. Big Finish really has sound design down to an art now. The new theme arrangement is big, mock-orchestral, war-movie contraption that is a little too over-the-top for my tastes. The story itself drags down my appreciation. It is rather ho-hum and unimaginative, playing out in a highly predictable fashion. It is a good, but not great, start to a new series.