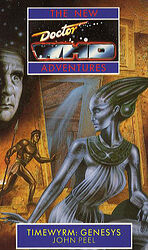 | | | |
| --- | --- | --- |
| | | |
| | Reviews for Timewyrm: Genesys | |
| | | |
There are 7 reviews so far. To add a review of your own for this item, visit the voting page.
By:
Daniel, London
Date:
Wednesday 1 February 2006
Rating:
7
This being the first of the New Adventures reads almost like a slightly more sophisticated version of the Target novelisations. It is not until several books later that the range really hits its stride. Saying that, this is a cracking good tale with some nice Doctor/Ace moments, a chilling new villainess (who features also in the subsequent three novels) and an interesting take on the
| | | |
| --- | --- | --- |
| | | |
| | The Start of a Great Series | |
| | | |
By:
Lord Animus, England
Date:
Wednesday 8 February 2006
Rating:
10
Great Well worth a read!
This was the first of the new adventures featuring the 7th Doctor. I remember looking forward to reading it so much. I was not dissapointed at all. It is a simple story, easy to follow and yet so adult in its approach. John Peel did an excellent job in being the first to start of this much needed novels. I felt it was a tough act to follow and that often prooved to be the case. Dont listen to anyone that knocks this, (as many do) read it for yourself. Like so many of the new adventures it knocks spots of the basic poor quality hard backs that are based on the current Doctor. For a while those that grew up with the programme had the magic of the show but also had an adult flavour which was much needed. In my reviews I wont go into the story to much at all but Qataka, come Ishtar, come Timewyrm is one of the best baddies ever. Gilgamesh is comical and tough at the same time and it would of been nice for Mesopotamia to have another visit from the Doctor.
By:
Mark List, Midland, United States
Date:
Sunday 5 July 2009
Rating:
6
I felt that this was only an OK novelization. It may be that it was the first novel not adapted from the television series, and I felt that John Peel tried to make it "too adult" by his continual references to En-Gula's bare breasts and Gilgameshs sexual desires. Neither had any real relevence to the story. This may have been done to break the mold of the televised show, I don't really know. Gilgamesh was a freaking idiot in the book and I had no love/compassion for the character. I could have cared less if he would have gotten offed.

I think that the Timewyrm could develop into a great nemisis for the Doctor and it will be interesting to see how the next 3 authors continue the series.

I felt it was decent and worth reading, but I have read much better novels.
By:
Mondas, Edinburgh Scotland
Date:
Tuesday 6 April 2010
Rating:
7
Entertaining start to the series of new adventures. picking up where the original series finished after the last episode survival. John Peel does a good job with the first book. and the story is of a more adult nature which i enjoyed. well worth reading
| | | |
| --- | --- | --- |
| | | |
| | A good but not great start | |
| | | |
By:
Vince Rayner, Havant, United Kingdom
Date:
Saturday 6 July 2013
Rating:
5
Not bad but I found none of the characters that interesting and found myself speed reading the last chapters so I could get to the far superior second book.
| | | |
| --- | --- | --- |
| | | |
| | Quite possibly the worst book ever | |
| | | |
By:
Eye of Horus, Under A Rock, United Kingdom
Date:
Friday 23 December 2016
Rating:
1
I bought this book a few years ago off amazon because I wanted to get into the New Adventures and it seemed like the best place to start. How I'm still reading them today, I will never know. The point is, I'm a massive seventh Doctor Fan and the fact the first original Doctor who Novels were completely dedicated to him (not counting dying days) was brilliant. But oh deer the poor fans, after years of waiting, ended up with this garbage. This is a piece of garbage that dares to call itself a Doctor Who Novel. In fact, the only reason I consider it cannon is because I love Timewyrm Revelation. The Characterisation is terrible. Almost all supporting charterers are irrelevant with the exception of the space man and Ishtar. And it made me despise my favourite Doctor. Good Job John Peel!

Oh also, this book is a gross porno. No seriously, half the book is in depth description of Gilgamesh sexually molesting girls and when Ace complains that he wants to do it to her the Doctor essentially tells her to grow up.

*sigh* I hear his target books are good, I guess.