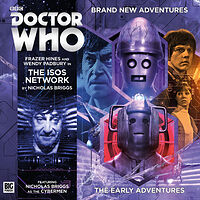 | | | |
| --- | --- | --- |
| | | |
| | Reviews for The Isos Network | |
| | | |
There is 1 review so far. To add a review of your own for this item, visit the voting page.
| | | |
| --- | --- | --- |
| | | |
| | The Monochrome years back again | |
| | | |
By:
Matthew David Rabjohns, Bridgend, United Kingdom
Date:
Monday 29 February 2016
Rating:
10
This story follows on from one of the very finest Doctor Who episodes of the 1960s, The Invasion. Its always been a favourite of mine. And Big Finish actually produce brilliant cybermen stories, and this follow on from the Invasion truly feels it could have been a simple follow on from the Invasion. Its vividly brought to life the black and white era. And now we have the brilliant classic Cyber controller back for another stab at the Doc and friends. Nick Briggs is brilliant on the voices, and yet again writes a decent story for the metal men from Mondas.

The feel of this story too really feels true to the era too. There's a feel of claustrophobia just as In the Invasion and The Web Of Fear. And there's a new alien species added to the mix for additional good measure. There is also some great character sections in this story, And there's some few decent comedy pieces sown between the seriousness too. Everything then that a Doctor Who story oughtta be.

And again Frazer Hines seriously evokes the late great Pat Troughton with ease, and he's great to listen to as Jamie too, who was always my favourite Doctor Who companion. And Wendy Padbury just slips back into the role of Zoe with consummate ease. And its also brilliant hearing exactly the same Invasion cyber voices again. To me one of the best and eeriest cyber voices ever done for the silver giants.

The Isos Network brings this second Doctor early adventures set to a brilliant climax. This is great stuff.