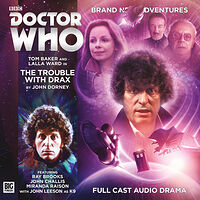 | | | |
| --- | --- | --- |
| | | |
| | Reviews for The Trouble with Drax | |
| | | |
There are 2 reviews so far. To add a review of your own for this item, visit the voting page.
By:
David Layton, Los Angeles, United States
Date:
Wednesday 19 October 2016
Rating:
8
It's so sad that Barry Jackson was not around to do this one. Fortunately, Big Finish got a cracking good cast. The story itself is in the best tradition of con man stories. This time, it is nicely tied into a plot reminiscent of Heinlein's "By His Bootstraps." Is the universe ready for multiple Draxes at a time? As clever as it is, the one down side with a story of this kind is that there is not much beyond the clever ending. Once it's all revealed, there is not a significant amount more to get out of the story. Still, for what it is, this is very good.
| | | |
| --- | --- | --- |
| | | |
| | A superb return of Del Boy From Space!!! | |
| | | |
By:
Matthew David Rabjohns, Bridgend, United Kingdom
Date:
Saturday 2 March 2019
Rating:
10
It is only very sad that Barry Jackson couldn't have been here to reprise the role of Drax, the wonderful interspacial Del Boy from Gallifrey! I imagine he would have relished the chance to appear in this corking good fun story from the ever reliable John Dorney. Drax is well and truly given his full potential in this wonderfully bonkers instalment of the Fourth Doctor adventures. We don't get these comedic feasts very often from the guys at Big Finish.

In the stead of Barry we instead get the brilliant Ray Brooks, John Challis and even Hugh Fraser as differing incarnations of Drax. Honestly how John gets his head round including all these many different types of Drax into one hour story and actually makes it a roaring success has to be applauded. In fact I think this is the single most funny story since Bang Bang a Boom! I was craving a bit of a laugh fest for years and at last we get one here!


You do have to concentrate though or youll miss some jewels along the way. Its great that Romana and K9 get to have some decent and cool dialogue too. And the Doctor is brilliant as he initially doesnt seem to notice he is being taken for a ride by the dippy Drax! Tom Baker can always be relied upon to liven up the preceedings too!!! The banter between the Doctor and the Drax's is highly entertaining indeed. I dont know how youd classify this story. Maybe a spacial Only Fools and Horses is a good description!!!! It has all the elements of a great ripping space comedy!!