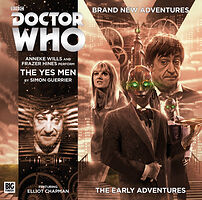 There is 1 review so far. To add a review of your own for this item, visit the voting page.
By:
Matthew David Rabjohns, Bridgend, United Kingdom
Date:
Tuesday 17 November 2015
Rating:
10
...BIG FINISH YOU GOT THE OPENING THEME VERSION WRONG HERE! PATRICK'S FIRST SEASON WAS STILL NEARLY ALL STILL USING THE ORIGINAL TITLES FROM WILLIAM'S TENURE OF THE SHOW! BUT THAT DOESNT STOP THIS STORY FROM BEING EXCELLENT.

Elliot Chapman makes a brilliant first impression as Ben. He does his character superb justice, maybe not sounding 100% like Mike Craze, but getting all the inflections and Ben's character spot on. I'm so glad to hear people taking on the mantle of other actors without bumbling them up. Tim Treloar has been superb as Jon Pertwee, and here the same is readily true of Elliot. And he meshes immediately well with Frazer Hines and Anneke Wills, both of which return to their roles with obvious ease. And don't even get me started on Frazer's brilliant channeling of the late great Pat Troughton! He remains constantly superb. And the story's pretty flipping good in all! The Yes Men is an excellent start to the second Doctor run of Early Adventures. It feels like im listening to monochrome 1960s television all over again, and its delightful. Big Finish just keep getting better and better all the time.