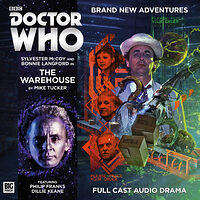 | | | |
| --- | --- | --- |
| | | |
| | Reviews for The Warehouse | |
| | | |
There is 1 review so far. To add a review of your own for this item, visit the voting page.
| | | |
| --- | --- | --- |
| | | |
| | The superb feelof the late 80s | |
| | | |
By:
Matthew David Rabjohns, Bridgend, United Kingdom
Date:
Thursday 14 January 2016
Rating:
10
This story was written by Mike Tucker, a name I am glad has come back to Big Finish after many years of not a whisper of him. He previously wrote the superb stories The Genocide Machine and Dust Breeding. I was really glad when I saw that he had contributed a new story to Big Finish again. I really like Mike's writing. He's one of those writers who instantly manages to drag you into a story, and keep you hooked.

The Warehouse is a pure delight from start to finish. It has totally the right feel of the era in which it is set. And it also boasts Bonnie Langford as Mel but gratefully without the screams, which I'm sure Bonnie must be glad about too. With Big Finish Mel has been allowed to blossom as a companion and she is really really catching as a companion. And she works brilliantly with Sylvester McCoy. They are just as strong a double act as Seven and Ace are to me.

The characters in this story are all very well rounded too. And the story never pauses for breath. The tension mounts well in this story too, as one discovers just what is brewing in the Warehouse. I love the Doctor and Mel's packaging scene in particular. This has wholly the feel of the first season of Sylvester's on TV. It was an age of new discovery and varied storytelling techniques that I found totally endearing honestly. And The Warehouse would fit right in with the four stories of the much underrated season 24.

As ever Big Finish''s attention to sound design and production is flawless and one can easily picture the huge warehouse and the pulsating mould and the huge alien rats. The climax is superb, and the underlying tones of regret for past beliefs in falsehoods is written extremely well by Mike. It adds a very interesting slant to the story that is already amazing and very entertaining. So this is nothing more than yet another Big Finish hit.

I am really glad to welcome Mike Tucker back to the Big Finish fold. And with the Warehouse, he doesn't disappoint at all. We have a full on piece of Doctor Who with some great themes and some great set pieces. And the actors all portray very likeable and varied characters that add spice to an already satisfying story indeed. I would recommend this brilliant tale to anyone! The Warehouse is a Big Finish highlight.