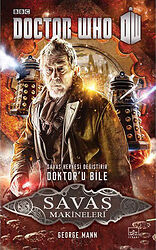 | | | |
| --- | --- | --- |
| | | |
| | Reviews for Engines of War | |
| | | |
There are 2 reviews so far. To add a review of your own for this item, visit the voting page.
| | | |
| --- | --- | --- |
| | | |
| | Great Doctor! Great Story! | |
| | | |
By:
Alexander Amos King-Grey, Campbell Town, Tasmania, Australia
Date:
Tuesday 22 March 2016
Rating:
9
What a brilliant book! One of my favourites in fact. It just a shame that it took me a whole year to read. I think the reason was it was difficult to get into, nut once I got into the story, it was totally worth every penny!
Some lovely references in there, the best being from "The Five Doctors" [which is a great anniversary special].
I love John Hurt's doctor and George Mann really knows how to write the War Doctor, a battle-worn and grumpy-man. He is great in every scene he's in.
Great subsitute companion, Cinder, she just awesome and has a great character story; going from hard foot soldier to compassionate and hero companion, I like how her name is never revealed.
The Daleks are incredible and frightening when they show up; their plan to wipe out the Time Lords is believable, scarily insane and genosidle. Their only used for a few chapters but totally make an inpact to the reader and the universe.
The Time Lords are also great villains, you can just see how the Time War has change them for the worst, just like the Doctor says, they are like Daleks now and that the Doctor's own people he's talking, he's even talking about himself to a certain degree.
Overall, get this book! Highly recommended, Well done George Mann! I hope you do some more books soon.
By:
The Keeper of Traken, Canberra , Australia
Date:
Wednesday 12 February 2020
Rating:
10
This is a great book, that had me riveted throughout. George Mann does a fantastic job of writing the War Doctor, you can hear John Hurt speaking as you read it. It's fast paced, with good references to both of and new Who. An utterly fantastic book, which can't be put down.