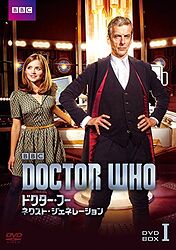 | | | |
| --- | --- | --- |
| | | |
| | Reviews for The Complete Eighth Series | |
| | | |
There are 2 reviews so far. To add a review of your own for this item, visit the voting page.
| | | |
| --- | --- | --- |
| | | |
| | Best New series season in a long time | |
| | | |
By:
Matthew David Rabjohns, Bridgend, United Kingdom
Date:
Monday 24 November 2014
Rating:
8
What a brilliant entry Peter Capaldi makes as the new, shades of William Hartnell/Jon Pertwee role. He is superb, and he's already giving David Tennant a serious run for his money. And not only that, but Jenna is perfect as Clara. I love the character's interaction with the new, different Doctor. And what is even better is the fact that this season, at least for me, is the strongest since series 4. Only three of the episodes are below par for me, those being Listen, The Caretaker and Deep Breath. But the rest of the series boasted some brilliant ideas, I especially liked the whole mini Tardis scenario in Flatline, which made for some very amusing and original scenes. I think my favourite scene of the whole season is when the Doc knocks the TARDIS off the railway line! Seriously cool. Robot of Sherwood also has the Doctor in fun mode, a mode it seems to have lacked for a long time. Its a bit reminiscent of The Time Warrior with its great humour and great action. Time Heist boasts a very very good scenario, and also pleased this whovian in returning to the brilliantly tried and tested corridors adventure! And yet did it in a fresh, and disturbing way (that staved in head: frankly yuck!) Mummy on the Orient Express was pure class, and really seemed to echo the small confined outlet of humans under siege from a nasty threat. Which is great again. Kill The Moon was original and fresh and darker in tone. Wow, Peter really grabs thee attention. And for once, I think Steven Moffatt presents his best series finale of all, and Michelle Gomez has to be applauded for her brilliant take on a classically malevolent character! There was some great, terrific touches, great emotional depth, and great action. Flying cybermen is particularly cool in the extreme! 3 quarters of the series is brilliant, and that includes In The Forest of The Night, which is actually visually pretty stunning, and add the wolves and tiger makes a vividly colourful episode that I call really good! So, overall brilliant stuff of the highest order. An excellent return to form after several misfires....
By:
Jared Harr, St. Marys, United States
Date:
Tuesday 16 May 2017
Rating:
5
There were some good episodes "Flatline", "Mummy on the Orient Express", but then again the bad episodes kind of took over this series "The Caretaker", "Kill the Moon", "Black Water".