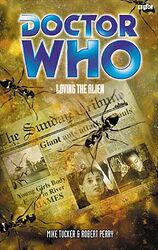 | | | |
| --- | --- | --- |
| | | |
| | Reviews for Loving the Alien | |
| | | |
There are 5 reviews so far. To add a review of your own for this item, visit the voting page.
after reading some of the 8th doctor's adventures and getting sick of Sabbath, I need a change and picked up Loving the Alien. Although the alternate realites storylines are hard to follow I really enjoyed this story. The fact that the Doctor is being held responsible for his changes in history makes for a great story (even though everything turns out ok at the end). all in all, very enjoyable with one of my favorite docs.
By:
Tegan, England
Date:
Sunday 22 February 2004
Rating:
10
This was the first 7th Doctor PDA I bought- although I found it confusing at first with all the parallel storylines, I found it challenging and moving to read. A brilliant book.
| | | |
| --- | --- | --- |
| | | |
| | Confusing and long-winded | |
| | | |
By:
Karina, Melbourne, Australia
Date:
Saturday 15 April 2006
Rating:
4
This was the first Dr Who novel I had read, and frankly I was disappointed. It started well, but once I hit the sixth chapter it was hard-going. It introduced characters that it was assumed I knew from previous novels/episodes. Multiple-dimensions and killing off Ace at the beginning just left me cold. I had to struggle to finish it. Maybe it's just the way my brain is wired. :0)
By:
Hatman, Next to Traveller
Date:
Friday 26 May 2006
Rating:
5
Not very good. Not everything is explained, leaving a tangled mess of a book. seems a bit disjointed. not at all ace.
By:
the Traveller, The House of Ramesh
Date:
Sunday 28 May 2006
Rating:
7
An entertaining, if rather confusing book. I agree with Hatman below, the plot does seem a bit disjointed. However, the character of Ace comes out better in print rather than screen, and the continuing story of the Doctor finding Ace's corpse is rounded off nicely.