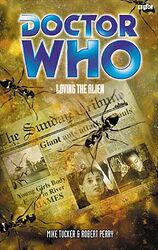 | | | |
| --- | --- | --- |
| | | |
| | Reviews for Loving the Alien | |
| | | |
There are 6 reviews so far. To add a review of your own for this item, visit the voting page.
after reading some of the 8th doctor's adventures and getting sick of Sabbath, I need a change and picked up Loving the Alien. Although the alternate realites storylines are hard to follow I really enjoyed this story. The fact that the Doctor is being held responsible for his changes in history makes for a great story (even though everything turns out ok at the end). all in all, very enjoyable with one of my favorite docs.
By:
Tegan, England
Date:
Sunday 22 February 2004
Rating:
10
This was the first 7th Doctor PDA I bought- although I found it confusing at first with all the parallel storylines, I found it challenging and moving to read. A brilliant book.
| | | |
| --- | --- | --- |
| | | |
| | Confusing and long-winded | |
| | | |
By:
Karina, Melbourne, Australia
Date:
Saturday 15 April 2006
Rating:
4
This was the first Dr Who novel I had read, and frankly I was disappointed. It started well, but once I hit the sixth chapter it was hard-going. It introduced characters that it was assumed I knew from previous novels/episodes. Multiple-dimensions and killing off Ace at the beginning just left me cold. I had to struggle to finish it. Maybe it's just the way my brain is wired. :0)
By:
Hatman, Next to Traveller
Date:
Friday 26 May 2006
Rating:
5
Not very good. Not everything is explained, leaving a tangled mess of a book. seems a bit disjointed. not at all ace.
By:
the Traveller, The House of Ramesh
Date:
Sunday 28 May 2006
Rating:
7
An entertaining, if rather confusing book. I agree with Hatman below, the plot does seem a bit disjointed. However, the character of Ace comes out better in print rather than screen, and the continuing story of the Doctor finding Ace's corpse is rounded off nicely.
By:
David Layton, Los Angeles, United States
Date:
Monday 17 January 2022
Rating:
6
This book is a sequel to Tucker & Perry's earlier 7th Doctor novel "Illegal Alien." It also rounds off a story arc begun in "Prime Time" and continued in "Heritage" about why The Doctor is acting weirdly around Ace. Most of the novel is a fairly good alternate realities thriller along the lines of "The Outer Limits." There were some annoying bits, such as the writers' repeatedly telling us how clever George Limb is. Our heroes really get beaten up - beaten, battered, bullied, and bombarded beyond anyone's realistic tolerance for pain and abuse. And then, a scene later, they are going along as if had not happened. Granted that occurs only sometimes, but the characters are definitely going to need more recovery time than they get. What does not work for me is the last 40 or so pages. The ending is a mess. There are too many things happening, and the writers resort to "dimension hopping, multiple universes, so we can throw in any weird thing we like" as a way to get themselves out of the tangle they've written. There are some loose ends as well, such as the Dumont-Smith couple. What happened to them? So, tight writing at the beginning gets undermined by sloppy writing at the end.